Way of the Shadows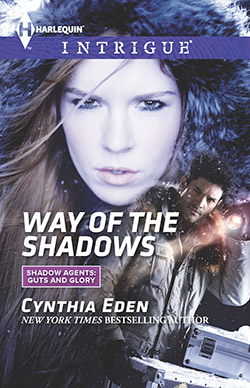 Buy Now
Available at
Also Available in Audiobook
Way of the Shadows Audio Sample
Description
The woman who doesn't remember is the one he can't forget in Cynthia Eden's latest Shadow Agents: Guts and Glory book
Fifteen years ago, Noelle Evers was kidnapped. Two days later, her abductor was dead, leaving her with no memory of what happened. Now an FBI profiler, she uses her past trauma to get inside the minds of killers. But she can't read her new partner. EOD agent Thomas Anthony is controlled. Dangerous. And hauntingly familiar.
Thomas has been covertly watching Noelle's back. He wanted to tell her the truth, but couldn't blow his cover. Their latest mission just revealed a link to her past. With desire ramping up between them—and a predator hunting Noelle—it's time for Thomas to step out of the shadows. Or lose his second chance to save the woman he loves.
Excerpt
The plane dipped, hitting another hard patch of turbulence, and Noelle Evers locked her fingers around the armrest on either side of her body. The private plane was currently flying over an area of pure-white land in Alaska, and Noelle was afraid they might be diving right into that snowy landscape at any moment.
"Relax," a low, gravel-rough voice told her. "We'll be landing in just a few more minutes."
The voice—and the guy who went with that voice—pulled Noelle's attention from the narrow window. She looked at the man seated directly across from her.
Thomas Anthony.
Tall, dark, deadly…and, currently, her partner on this assignment. Thomas "Dragon" Anthony was a man who seemed to always put her on edge.
"If you're going to be working with the EOD," Thomas murmured as he lifted one dark eyebrow, "rough flights will be the least of your worries."
Noelle forced herself to take a long, deep breath. She didn't want to show any weakness in front of Thomas. The man made her far too…nervous. Too aware.
Noelle was new to the EOD—the Elite Operations Division. She'd been recruited by EOD Director Bruce Mercer a few months back. Normally, the agents in that secretive group were all ex-military. They belonged to some of the most elite military units operating in the world. The agents were recruited to join the EOD because of their skills and because they were deadly when it came to their missions.
Noelle wasn't ex-military. She didn't specialize in killing or hunting prey. Instead, her specialty was getting inside a killer's mind. Before Bruce Mercer had used his pull to get Noelle into the EOD, she'd been working as a profiler at the FBI.
But then one of the EOD agents had gone rogue…and Mercer had brought her in to profile the agents there.
To hunt a killer within the division.
"You don't fit, you know," Thomas added in that deep, dark voice of his. A voice that made her tense and think of things she really shouldn't.
The plane bounced again. Noelle swallowed. "You mean because I lack the military training?"
"I mean because when we get into a life or death situation—and we will—you won't be prepared to take the necessary action."
Her eyes narrowed at those words. Way to insult your partner on the first case. "Look, I might not be an ex-Army Ranger—" as he was "—but I worked at the FBI for five years. I've been in plenty of dangerous situations, and I've handled myself just fine."
Thomas's lips quirked a bit. They were sensual lips, with a faintly cruel edge. Thomas was a handsome man, if you went for the deadly, dangerous type. As a general rule, Noelle definitely did not go for that type. She preferred safe guys, with a capital S.
And everything about Thomas spelled DANGER. From the top of his midnight-black hair down to his well-worn hiking boots, the guy just oozed a threat. Maybe it was because she'd read his file. She knew just what he was capable of doing—what he had done. Thomas didn't need any weapon when he went after his targets. He could kill—and had—quite easily, with his hands. He'd earned the nickname of Dragon while at the EOD because he was a martial-arts expert—he attacked with brutal control, and his opponents never had a chance against him.
Cold. Hard. Dangerous.