Undercover Captor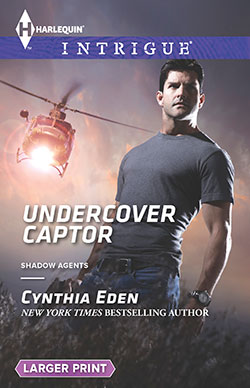 Buy Now
Available at
Also Available in Audiobook
Undercover Captor Audio Sample
Description
Get rescued by a hero in disguise in New York Times bestselling author Cynthia Eden's Shadow Agents: Guts and Glory miniseries!
The man standing watch over Dr. Tina Jamison was an imposing, scarred figure. Even more frightening was what would happen when her kidnappers discovered they'd taken the wrong woman. Only she didn't realize this same guard was an undercover agent, or that Drew Lancaster left no fellow Elite Operations agent behind.
Running handcuffed together through Texas, Drew vowed to protect Tina against all dangers. For a man who'd fought so may battles, he couldn't afford to lose this one. She'd need to follow his orders to stay alive. But it didn't take a doctor to see that this wounded warrior she'd once feared needed some saving himself….
Please note: The print version of UNDERCOVER CAPTOR will be available on 1/21/14, and Harlequin will release the digital version of the book on 2/1/14.
Excerpt
(Excerpt from UNDERCOVER CAPTOR by Cynthia Eden. © Reprinted by permission. All rights reserved.)
"If she's been talking so much…" His familiar voice rolled over her, edged with a Mississippi drawl, "then maybe you should have just gagged her."
Wait. What? Tina's eyes widened in horror. That wasn't what Drew was supposed to say. Drew wasn't a criminal. He was a good guy. He was a federal agent with the EOD.
He moved behind her, and put his hand over her mouth. "See?" Drew murmured. "Easy enough to stop her from talking."
She nearly bit him.
But Drew bent and put his mouth right next to her ear. "Stay calm." A bare whisper. One Tina wasn't even sure she hadn't imagined. But she'd felt the warm rush of his breath against her ear and a shiver slid through her body.
Drew kept his hand over her mouth as his head lifted a few inches. His eyes glittered down at her. She knew those eyes were golden, the color of a jungle cat that she'd seen once in the D.C. zoo.
Drew had always reminded her of that great cat. Because he was wild and dangerous, and he'd scared her, on an instinctive level, from the first moment they'd met.
"I didn't realize our cargo tonight was a woman," Drew charged as he glanced over at the lead gunman. "Maybe next time, you should clue me in on that."
The guy grunted. "Need-to-know basis, Stone . Need to know." Then he jerked his thumb toward the chopper. "Now are you ready to get us out of here?"
Stone. Her lips pressed against Drew's palm. She hadn't seen him in two months. Not since he'd left for his last mission.
Drew shifted his body and glanced down at her. This time, Tina could see past her fear and she easily read the hard warning in his eyes .
Drew was undercover. These men—they knew him as someone named Stone.
And something else that Tina realized… Drew wasn't about to blow his cover.
Not for her.
Her shoulders slumped. Things were going to get even worse before they got better.