Posted in Romance on September 12th, 2022 by Cynthia Eden
"Don't worry. I'm not about to fall into her web." – Saint
Spoiler alert…There should probably be some worry.
ICE COLD SAINT releases tomorrow!!
Like all of my "Ice Breaker Cold Case Romances"–this tale is a stand-alone read full of steam, twists, some humor, and danger.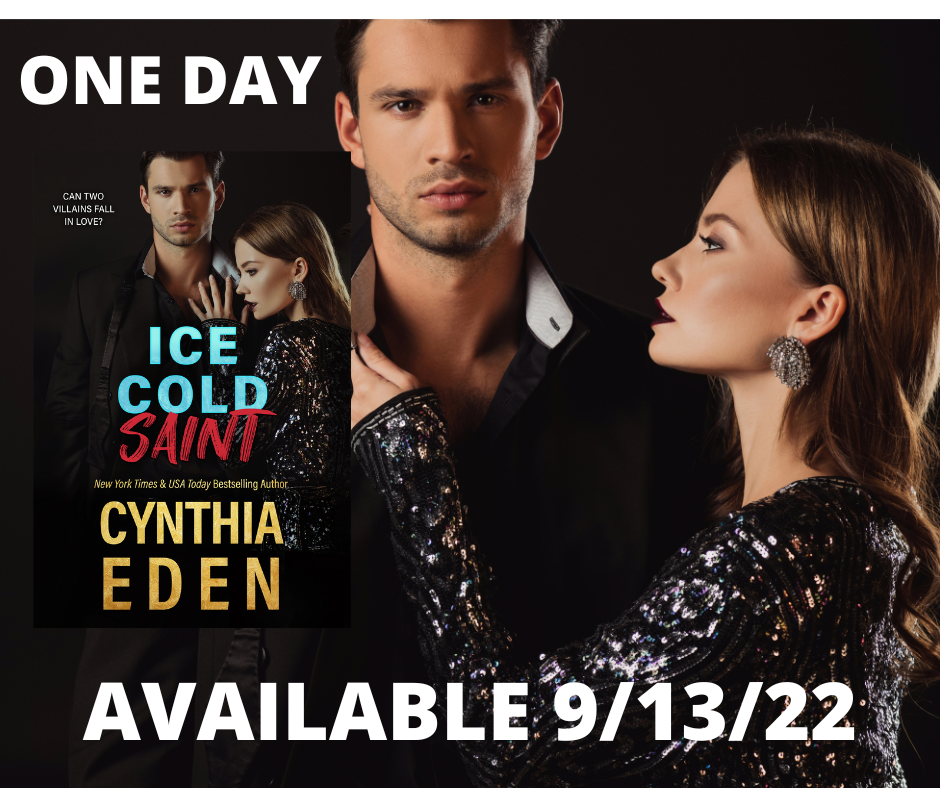 𝐒𝐡𝐞'𝐬 𝐬𝐮𝐩𝐩𝐨𝐬𝐞𝐝 𝐭𝐨 𝐛𝐞 𝐚 𝐯𝐢𝐥𝐥𝐚𝐢𝐧. 𝐅𝐚𝐢𝐫 𝐞𝐧𝐨𝐮𝐠𝐡, 𝐡𝐞'𝐬 𝐧𝐨𝐭 𝐞𝐱𝐚𝐜𝐭𝐥𝐲 𝐡𝐞𝐫𝐨 𝐦𝐚𝐭𝐞𝐫𝐢𝐚𝐥. 𝐂𝐚𝐧 𝐭𝐰𝐨 𝐯𝐢𝐥𝐥𝐚𝐢𝐧𝐬 𝐟𝐚𝐥𝐥 𝐢𝐧 𝐥𝐨𝐯𝐞? 𝐓𝐢𝐦𝐞 𝐭𝐨 𝐟𝐢𝐧𝐝 𝐨𝐮𝐭. 𝐓𝐡𝐞𝐬𝐞 𝐭𝐰𝐨 𝐝𝐨𝐧'𝐭 𝐩𝐥𝐚𝐲 𝐧𝐢𝐜𝐞𝐥𝐲, 𝐭𝐡𝐞𝐲 𝐥𝐨𝐯𝐞 𝐡𝐚𝐫𝐝 𝐚𝐧𝐝 𝐝𝐢𝐫𝐭𝐲, 𝐚𝐧𝐝 𝐭𝐡𝐞𝐲 𝐰𝐢𝐥𝐥 𝐭𝐚𝐤𝐞 𝐨𝐧 𝐭𝐡𝐞 𝐰𝐨𝐫𝐥𝐝 𝐟𝐨𝐫 𝐞𝐚𝐜𝐡 𝐨𝐭𝐡𝐞𝐫.