Donna Grant Has Some Magic For You… Back to Blog
Update:  Donna's prize winner (lucky lady!) is…Diane Sallan.  Congrats, Diane! I will send your contact information to Donna.
I'm so pleased to have Donna Grant as my first guest author today. Not only is Donna one fabulous writer, but she's a very special lady, too. I love her stories–can't read them fast enough!  Donna, thanks so much for joining me today!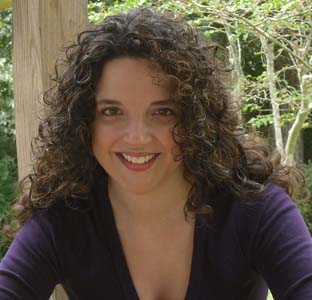 Congratulations to Cynthia on her newest release!  And thanks, Cynthia, for inviting me over to celebrate.  It's double the fun for me because I also have a release today – Echoes of Magic, the second book in my Sisters of Magic trilogy.
Whereas Cynthia loves the horror stuff, I've always been drawn to the historical and the paranormal/fantasy.  You can't imagine how I rejoiced when Lord of the Rings came to theatres. 🙂
There's just something about a man who can fight with a sword.  It's dangerous yes, but also so compelling to me as an author and a reader.  Knights were supposed to be the most chivalrous of men.  The ones who would also be there to help those in need.
So, it was no wonder my heroes in the Sisters of Magic trilogy are none other than knights.  In Echoes of Magic, we have Grayson.  He's been acting as a commander to his friend and lord, Drogan, but in fact, Grayson is a lord himself.
He's been hiding from his past, but there comes a point in every man's life where he has to face that past.  That's exactly what Grayson does.  He never expects to come face to face with the man responsible for ruining his life, or to find a woman who can heal more than wounds suffered in battle.
Adrianna is part of a dying race of witches.  She knows as soon as she sees Grayon that he's different, that he'll change her life forever.  Is she willing to test Fate to discover if she can beat the curse placed on witches?
Grayson and Adrianna must endure many trials, and its only with each other that they can truly face  – and win – them all. 🙂
Here's the blurb and cover for ECHOES OF MAGIC!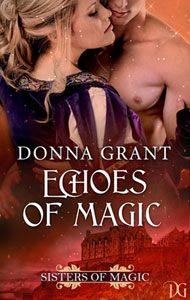 Hiding a secret so awful that his only hope for survival is to remain hidden, Grayson has lived most of his life pretending to be someone he isn't. After years serving as a commander to his lord and friend, Grayson can no longer hold back the past. He leaves in search of answers only to find evil awaits him. Until he discovers an achingly beautiful woman who stirs his deepest passions and all-consuming need.
Adrianna knows what her future holds for her as a witch – loneliness and heartache. She has accepted that. Until she discovers Grayson near death in the forest. Saving him is her only choice, and even as she falls deeper into the attraction surrounding them, can her magic be enough to stop Fate or the evil that awaits them.
What is your favorite romance genre to read?
I'll be giving away an ebook copy of SHADOW MAGIC, the first in the Sisters of Magic trilogy to one lucky commenter!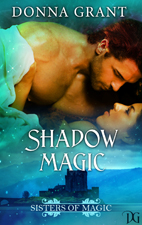 To learn more about the Sisters of Magic trilogy or my other series, see book trailers, and sign up for my newsletter please visit me at www.DonnaGrant.com.
Hugs,
D
Tweet It