DEADLY FEAR…psst…a new excerpt! Back to Blog
Happy Friday!! Yes, Friday! The weekend is nearly here!
Today, I want to share a new DEADLY FEAR excerpt with you.  It will help you get to know my hero and heroine a bit more.  Hope you enjoy it!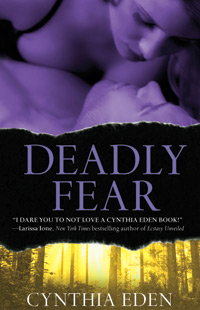 "So…are we gonna talk about it?"
Monica froze at the deep voice. Her notes were spread in front of her, the shade on her window firmly closed—because she really hated to fly—and with only about ten minutes left on the private flight, it looked like Dante had decided to get chatty.
Great.
"I mean…we're gonna be working together, and we can't pretend the past didn't happen…"
Sure they could.  She spent most of her days shoving the memories of her past away.
Carefully, Monica sat down her pen. Then she lifted her gaze.  Dante sat across from her, his long legs spread out, taking up too much room.  He'd changed before they left, thankfully gotten rid of the blood, and now he wore loose khakis and a button-down shirt.
Over the years, she'd tried not to think about Dante. Tried to pretend the fling with him hadn't happened.
Tried and failed really, really well.
"Like what you see?"  The words came out of his mouth sounding like some kind of sensual purr.
Asshole.
And, dammit, yes.  Luke Dante was sex, he was power, and he was temptation.
A temptation she hadn't been able to resist when she was twenty-two. But one she would ignore now.
Tall, muscled, with bright emerald eyes and sun-streaked blond hair, Dante was a southern boy with charm and a dimple in his chin.
A long, thin scar marred his right cheek.  She'd been there the day he got that scar.  The mark didn't detract from Dante's looks. No, the scar just made him look all the more dangerous.
She stared at him, trying to be detached. A strong jaw, wide lips, slightly twisted nose—he shouldn't have been handsome.
But he was.
No, not handsome. Sexy.
Dammit.
Monica cleared her throat. "The past is over, Dante." They'd been over this before, when he'd made the mistake of tracking her down.  Serious mistake.  "We're professionals, we can—"
"Pretend we never had sex?  Pretend we didn't nearly tear each other apart because we were so fucking hungry those nights?"
Her heart thumped hard enough to shake her chest.
He smiled at her, flashing his white teeth. "Don't know if I'm that good at pretending, Ice."
***
In case you're curious, Ice is a nickname that Monica was given in her FBI Academy days, and it's a name she hates.
Want to win an autographed copy of DEADLY FEAR? Then tell me a nickname that you've been tagged with in your life. Does it fit? Love it? Hate it?
Tweet It