Deadly Fear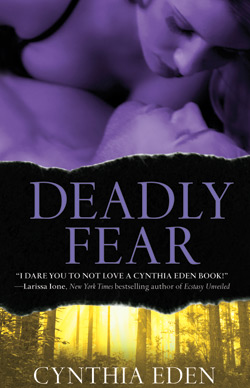 Buy Now
Available at
Also Available in Audiobook
Description

TWO BRILLIANT AGENTS
FBI Special Agent Monica Davenport has made a career out of profiling serial killers. But getting inside the twisted minds of the cruel and the sadistic has taken its toll: She's walled herself off from the world. Yet Monica can't ignore fellow agent Luke Dante, the only man who ever broke through her defenses.
ONE DREAM TEAM
Luke has the unique ability to put victims at ease…professionally, he and Monica made a perfect team. Now they're reunited to catch a murderer who uses his victims' deepest, darkest fears for sport – but their investigative skills aren't enough. Luke and Monica will have to face the secrets from their past, the ones that terrify them the most, if they are to have a future together.
But can they catch a killer whose weapon is…DEADLY FEAR?
Excerpt
Monica ran for the door. She yanked it open and raced outside–
Just in time to see the fading tail-lights.
What in the hell?
"Monica?"
She whirled at the voice, her gun still ready, and found Luke slipping from his room. He froze, his arms poised in front of him. "Easy with the gun."
Her breath rushed out.
His gaze raked down her as his eyebrows climbed up. "Nice outfit, Davenport."
Screw him. Shorts and a tank top were not femme fatale material, but–ah, hell, Luke could probably see her nipples through the thin top.
She lowered her weapon, grudgingly. "Some jerkoff was out here, revving his engine and flashing his lights."
"Uh, huh." His hands fell to his sides. "And you thought that warranted, what, a bullet in the head?"
Ass. Monica shook her head and turned away. "Go back to bed."
"Come with me."
Temptation.
She swallowed. "My mistake earlier." She'd be woman enough to admit that. Dante–he was her weakness. One she'd have to guard against. "Won't be happening again." The case–it came first. The victims.
The killer.
"Get your beauty sleep, Dante." You'll need it working with this unit. "Six a.m. will be coming fast." She wanted to see the Moffett crime scene before she checked in with the Sheriff again and made another call to Hyde.
She pushed open her door and heard his whisper.
"Maybe it won't happen again, baby, but maybe it will…"
Maybe.
Monica hesitated, then, said, "I can't give you what you want." Brutally honest. He deserved that. He'd deserved the truth before, but she'd been a coward. She'd wanted him, she'd taken him, and she'd wanted more.
But she wasn't the kind of woman who got the picket fence. A happily ever after wasn't in her future. No kids. No husband. She'd learned that long ago.
"You don't know what I want," he growled.
Goose bumps rose on her arms. His voice–that deep rumble. Her nipples tightened.
Sex. Sex was all she had to give him, and even then, she had to be so careful because Dante was a lover who took too much.
"Come with me," he said again. "Let me see if we were as good as I remember…or if I just made you a freaking fantasy in my head."
A fantasy. That's all she'd ever really been to him. He didn't know what waited under her skin. If he did…
Monica shook her head. "Get some sleep. We've got a crime scene to check tomorrow."
She entered her room. Shut the door.
Her knees started to shake.
Damn him. Couldn't the man just leave the past alone?
Reviews
"From the very beginning, DEADLY FEAR will pull you in and keep you there until the last page is turned.  With intriguing suspense, the reader is brought along on a roller coaster journey that will delve into the mind of a serial killer bent on toying with his prey…The romance is well written with plenty of steamy scenes that doesn't detract from the engaging storyline.  Eden has written such an intricate web of suspense, the reader will be lead on a highly charged pace until the climactic ending.  Highly Recommend!" –Reviewed by Jennifer Jones, The Romance Readers Connection, 4 1/2
"Nail-biting suspense, great dialogue, and unforgettable characters combine to make this a book you will not forget. Monica and Luke and all the supporting characters will stay in your mind long after you finish this book. From the very first page, I was drawn into the story and the pacing kept me riveted throughout…With lots of twists and turns and close calls, Deadly Fear is romantic suspense at its best! Deadly Fear is one you will reread over and over!"
–Reviewed by Lisa Freeman of The Romance Studio, 5 Hearts