Deadly Excerpt–I'LL BE SLAYING YOU Back to Blog
I'LL BE SLAYING YOU releases next Tuesday–next Tuesday!!!  Where has the time gone?
I thought I'd post a new excerpt for those interested in Dee's story. This except will take you into the mind of my hero, Simon.  (Warning: Adult language to follow!) Hope you enjoy it!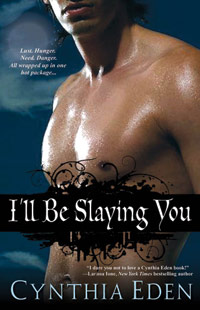 After five minutes of silence from her, she finally deigned to glance his way.  "Harry said you could leave, buddy—"
"Simon.  Simon Chase."  She knew his name. She'd been right there when he spelled it for the uniforms.  Each time.
She grunted.
He almost smiled. Almost.  "Ah, I can't help but notice, Sandra—"
"Dee."  Her voice snapped like a whip.
He'd been there when she had to spell her name, too.  He'd rather enjoyed her gruff, "Harry, you know this shit, S-A-N-D-R-A…oh, fuck off."
"Dee," he allowed.  But he'd be calling her Sandra again soon.  He liked that.  Liked the way her cheeks flushed so red when she heard the name. "You don't seem too upset that someone tried to kill you tonight."
The victim had been hauled away in an ambulance. Blood still soaked the ground, but Simon didn't glance at it.  His nostrils twitched, just a bit, but the scent was starting to fade.
She rolled her shoulders in a little shrug. "Not like it's the first time."
He let his eyes widen. "Really."
Another grunt from her.
"And you have no idea why folks want you dead?"
A furrow peaked between her golden brows.  "No clue."
Right.
Her hands lifted then fell in a vague little gesture. "Well, it's been fun, Chase, but I've got work to do."
He pulled the wooden stake from his back pocket.  "Just what kind of work is it that you do, Sandra?"
A red flush rose on her cheeks.  She lunged for him and locked her fingers around the stake, but he didn't let go.  She was close now, close enough that he could see light flecks of gold in her dark gaze. Close enough that he could see the pulse pounding at the base of her throat.  Close enough that he could almost taste those lips.
He tightened his hold on the stake. The wood was smooth and hard. The woman had obviously spent some time honing her weapon.
"Give it to me."  She glanced back over her shoulder. "I don't want to have to explain this shit to all of them right now, not with the silver shooting still hanging over me."
Silver shooting?  Sounded like an interesting story.
Slowly, he released his hold and she jerked the weapon from him. Kneeling, she shoved the weapon into some kind of custom scabbard near her ankle.
When she lifted the ragged hem of her jeans, he caught sight of her leg. Nice. Smooth and pale and—
She shot back up, nearly clipping him in the chin.  Again.
Chance shook his head. So not what he'd been expecting. "You didn't answer me," he said and tried to ignore her scent.  A heady scent, rich and dark.  A woman's sensual flavor.
She licked her lips. A quick swipe of her tongue that had his cock swelling.
Not what he'd been expecting, but he wasn't gonna complain.  No way.
"Trust me on this, you don't want to know."  She shuffled back a few steps. Tossed him a careless smile. "Thanks for watching my ass tonight, Chase."
Then she was gone. Turning away and marching through the cops still on scene, and he kept watching that ass.  Nice and firm, round enough to hold tight.
Yeah, he kept watching that ass, right until the moment she disappeared around the corner.
He waited a beat.  Two.
Then he stalked after her because he wasn't about to let his prey escape that quickly.
***
Tweet It