I'll Be Slaying You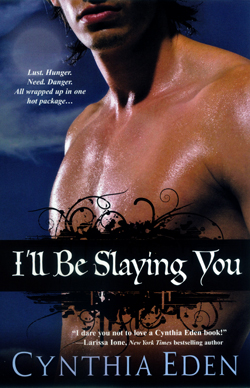 Buy Now
Available at
Also Available in Audiobook
I'll Be Slaying You Audio Sample
Description
Cynthia Eden returns to the realm of the Other, where the supernatural bounty hunters of Night Watch work hard and play harder…
Sandra "Dee" Daniels is a vampire's worst nightmare. Sure, she couldn't get up to five-six in the highest heels money can buy—not that she ever wears heels. But the monsters in her past and the stake in her boot are enough to keep most bloodsuckers interested in staying undead out of Baton Rouge.
But there are changes afoot on her turf. Rumors of a Born Master in town—a vampire so powerful he can make the streets run with blood. And a new face in Dee's dive bars and alleyways—Simon Chase, a strong, sexy shadow with a haunted past of his own. Simon knows a lot about the dark side of Dee's work. He knows even more about how to make her body spark with desire. But the hot lust shimmering between them is only the beginning. Because Simon also knows a secret that will change Dee's life—if she can live long enough to uncover it.
Excerpt
"There a particular reason why you're tailing me?"
The gun didn't waver. Those sexy-as-hell lips pressed into a thick line.
"Yeah…" He allowed himself a glance down her body. He'd have to be careful with her. He kept forgetting how small and fragile she was.
Maybe because of the gun. Maybe that was making him forgetful.
She acted tough. But that body–soft curves and sweet, tender flesh.
"Eyes up, asshole."
Apparently the lady didn't like him ogling her breasts. Fair enough. "You left before I could get your number."
Her jaw dropped. "What?"
He shrugged. "Your number. I mean, I saved your life–shouldn't I at least be able to get your number for that?"
She growled and finally lowered the gun. "Look, buddy–"
"Simon Chance."
"Whatever. I don't have time for this shit. I'm not going to screw you because you shoved me into the pavement. And, just so you know, I didn't need you to save me. Not like it's my first ballgame, okay?"
I'm not going to screw you. Hmmm. "Don't remember asking for a screw." Though he wouldn't refuse one with her. "Just your number."
She barred her teeth. Pretty teeth. White and straight. Not too sharp, though, but then, she was human.
His tongue scraped across his own teeth. A bit sharper than hers.
"I'm working now, I don't have time for this–"
"Yeah, you never did answer my question." Simon cocked his head to the side. "Just what kind of work do you do?"
She holstered the gun. "The kind you wouldn't understand."
Doubtful. "Let's see…you had a wooden stake and you were about ten feet away from a vampire the first time I saw you." He paused. "I'd say that makes you a hunter."
Her gaze raked over him. "So what? You know about vampires? Good for you."
"Oh, I know about vampires." Too much about them. "I also know about the demons and the charmers and the shifters that are running this city." He even knew her boss, Jason Pak. Pak was the Night Watch Agency. He'd started the bounty hunting business almost twenty years ago, and Dee–she was one of his top hunters.
But she didn't need to know he'd already researched her.
His hands were loose at his sides now. "I know all about the Other." The humidity from the hot July night had his shirt sticking against his flesh. "And I stopped being afraid of the monsters in the dark one hell of a long time ago."
Her lips parted.
"Fucking hunter." A snarl, high-pitched with fury.
Shit.
Simon looked over Dee's shoulder. The vamp was there, blood dripping down her arm, her fangs barred and her eyes glazed black.
"I'm going to rip your throat open and drain you dry, bitch, I'm going to–"
Dee shifted her stance slightly. Simon's gaze jerked back to her. "Sure you're not afraid?" She whispered.
He gave a curt nod.
Reviews
"A cross between Buffy and Eve Dallas, fierce slayer Dee uses her haunted past to protect the city. Dee and her vampire lover are hot enough to burn readers' fingers in this enthralling story." –RT BOOK REVIEWS, 4 Stars
"Eden follows 2010's Eternal Hunter with another sexy, fast-paced paranormal romance…the raw, thriller-style writing is solid and the total package is an enjoyable read."–Publishers Weekly
"Cynthia Eden has made a name for herself in the paranormal genre and I'LL BE SLAYING YOU only proves that she will be stacking up fans…Blazing inferno is the best phrase I can think of to describe the sensual interactions between Simon and Dee.  Rounding out this powerhouse story is the ulterior motives of Simon and the frightening question of what is he lurks in the forefront of your mind with every page turn.  Cynthia Eden has done a fantastic job of creating memorable characters and a powerful plot that will keep her readers coming back for more." –Angel of Romance Junkies, Blue Ribbon Rating of 4.5
"Cynthia Eden innovatively creates affecting paranormal stories. Throw in some danger, add in a myriad of dilemmas plus an abundance of steamy sensuality, and the resulting story is always engaging and totally entertaining…I'LL BE SLAYING YOU is a heartfelt paranormal romance where emotions and danger relentlessly collide."
–Amelia of Sensual Reads, 5 Stars
"Cynthia Eden uses sexy men, strong women, fantastic characters, and highly erotic scenes to write paranormal romance that will leave you wanting more. I'll Be Slaying You is the type of book that grabs you from the get-go and holds on tight."–Danielle of Coffee Time Romance & More, 5 Cups