Wilde Ways Volume Three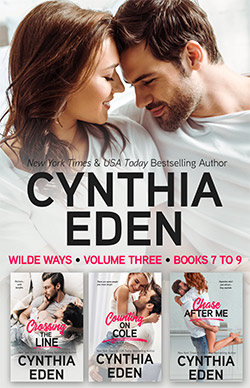 Buy Now
Available at
A slow-burn romance. A red-hot reunited lovers story. And an intense case of opposites attracting…are you ready for the next group of Wilde romances? This box set includes the following action-packed, fun, and dangerous books: CROSSING THE LINE, COUNTING ON COLE, and CHASE AFTER ME.
CROSSING THE LINE (Wilde Ways, Book 7)
Partners…with benefits.
Linc Dalton knows that he is supposed to keep his hands off his partner…well, unless he is protecting Blair Kincaid's gorgeous body. She's his partner at an elite security and protection firm. Their job is to guard the wealthy, to take out the bad guys, and to generally kick butt. He trusts Blair completely. He admires her strength and courage. And he wants her desperately. Not that he ever intends to let her know that fun fact. Instead, he keeps up a fake persona where he offers her jokes and flippant comments.
Blair is straight-laced. By-the-book. Always by-the-book. Linc likes things a bit wilder. Control isn't his strong suit, but, with a massive effort, he's kept his control in place around Blair. With Blair, he's on his best behavior…until he isn't. Until they get a new case. Until they have to go undercover as lovers…
COUNTING ON COLE (Wilde Ways, Book 8)
Cole Vincent never expected to see Evangeline Lake again. Back in the dark and bloody day, he'd been hired by her brother to save her in a mission that went straight to hell. Evangeline had been kidnapped and held for ransom, but he'd been sent in with a covert team to get her out. Thrown together in the dark, a stunning attraction burned through them. But she wasn't meant to be with an ex-soldier who had a past that was littered with secrets and death. She went back to her fancy world. He went back to hunting. Tried to forget her. Case closed.
But the past is coming back to attack. Evie's kidnapper was never caught, and when she's nearly abducted in New York, her brother calls in the one man that he knows he can count on…the one man who has proven he can protect Evie from the worst threats out there. The one man that Evie absolutely, positively does not want to see again…The only man she's ever loved—Cole.
CHASE AFTER ME (Wilde Ways, Book 9)
Chase Durant's newest assignment goes wrong from the moment he meets Vivian Wayne. She's not cold and calculating. The scientist is charming, funny, and absolutely freaking gorgeous. He's supposed to be seducing secrets out of her. She's supposed to be a selling classified intel. She's supposed to be bad.
Doesn't take long for the Wilde agent to realize that Vivian has been set-up, and the folks setting her up thought they could use Wilde to do their dirty work. Thought they could use Chase in order to make Vivian vulnerable so that she'd be the perfect target. Instead of using her, Chase is determined to protect Vivian. The only problem? He's been lying to her from day one, and things have…heated up between them. More like gone molten. Because Chase wants her more than he's ever wanted anyone, and he's not about to step back and let another agent take over her case. Vivian needs protecting, and he's just the man for the job.