Wilde Ways Volume Four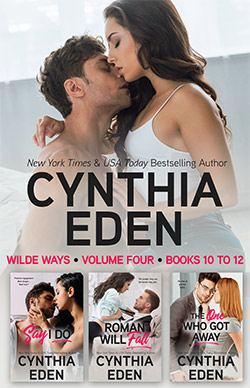 Buy Now
Available at
A master manipulator loses his heart. A reformed bad guy falls hard for the "good" girl. And a desperate genius will do anything to win back the woman of his dreams…Wilde adventures are waiting in the Wilde Ways, Volume 4 box set. The set includes the following full-length titles: SAY I DO, ROMAN WILL FALL, and THE ONE WHO GOT AWAY. In the mood for romance, danger, humor, fun times, and thrills? Then it's time to cozy up with these books.
SAY I DO (Wilde Ways, Book 10)
Dexter Ryan is smug. Arrogant. Manipulative. And he is also…Lacey Amari's new partner. Well, her partner on one case. A case she doesn't even want to take, but when Dex—CIA super operative and all around puppet-master—basically blackmails her, she has no choice. Then he asks her the big question…Will you marry me?
The proposal isn't real. It's just an undercover assignment. Dex doesn't work well with others and handling a case with a partner in close proximity—as in 24/7 close—isn't his normal style. He's pulled Lacey into the investigation because she is smart and resourceful, and maybe because he knows a secret about her that could prove to be very useful to him. After all, Dex uses people all the time. It's his thing. Yet the more he is around her, the idea of using Lacey suddenly doesn't seem like such a good plan. But getting her into his bed? Stellar idea.
ROMAN WILL FALL (Wilde Ways, Book 11)
They've been partners for barely a week, and Roman Smith (if that even was his real last name!) is already driving Harper Crane absolutely insane. His list of faults is a mile long. Roman is secretive, controlling, and far too sexy. Okay, the sexiness doesn't matter. It can't matter. What matters is that Roman never listens to orders, he is far too quiet and intense, and Harper is pretty sure that he is up to some seriously shady side business.
Roman has spent his life in the darkness. He is far too well acquainted with evil, and working at Wilde? Well, joining the security and protection firm is supposed to be the first step to turning things around in his world. The first step to becoming someone new. But some habits are hard to shake. And Roman knows that his way too beautiful trainer, Harper, is already suspicious of him. Yeah, so…she is right to be suspicious. Until recently, he has been the bad guy in the story. His list of past deeds could give anyone nightmares. Too bad he only wants to give Harper sweet dreams.
THE ONE WHO GOT AWAY (Wilde Ways, Book 12)
Antony Kyle can't believe what's happening to him. First, Ella Webb—the head of security at his gaming company—quits on him. Then…she kisses him as if she's never wanted anyone more. They spend one incredible night together—a night that brands him to his core—and he wakes to find her gone. Gone. No, not happening. Antony is not about to lose her now. Not when he's been obsessed with her for years. He can't have a taste and then lose…everything.
Antony can't lose Ella—not when he's finally had the woman he's wanted so desperately. But she's got a new job at Wilde—an elite protection and security firm—and he has to figure out a way to woo her back. So, he hires Wilde. Says that he needs protection. He pulls some strings (because the owner of Wilde happens to owe him about a dozen favors), and Antony gets Ella assigned as his bodyguard. He thinks his plan is brilliant. He'll have Ella in close proximity again, and Antony is sure that he'll be able to convince her that they belong together.
Except his brilliant plan soon goes to hell when a real threat emerges from the darkness. Now he and Ella have to unmask the enemy they never saw coming, before it's too late. As they fight to track the bad guy, Antony has to prove to Ella that he can be honest with her, and, if she gives him a shot…he just might be a man she can love.