Wilde Ways Volume Five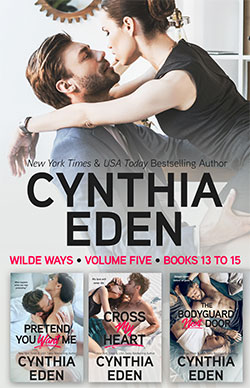 Buy Now
Available at
PRETEND YOU WANT ME (Wilde Ways, Book 13)
There is no problem that Aspen Gray can't handle. She's a rising star criminal defense attorney, and she intends to have the world at her feet…until a ghost from her past comes back to wreck her carefully designed plans. A ghost who should have been in the ground. And when a dead man comes stalking you, what's a woman to do? Immediately hire a sexy and dangerous Wilde agent for protection.
It should have been a standard undercover operation. Gideon Ranier knew the drill. He was supposed to play the role of his new client's boyfriend so that he could slip into her world, keep her safe, and unmask the jerk screwing around with her. Standard work. No big deal. Former Delta Force, he could do that type of job in his sleep. Except…he doesn't count on actually falling for his client. But he does. Hard, fast, and deep, and soon…there is nothing that he won't do for her.
CROSS MY HEART (Wilde Ways, Book 14)
Former FBI agent Elijah Cross tried to put the past behind him. For years, he spent his days and his nights tracking some of the most brutal killers in the US. Now? He protects the rich and famous. His latest gig has taken him to the sandy beaches of Florida's Gulf Coast, and it's on one of those gorgeous beaches where he comes face to face with the woman who haunts his dreams.
She was the last victim he saved at the Bureau. Penelope Kostas. The woman who survived a nightmare. He'd carried her out of hell in his arms, and Elijah had sworn to always protect her. But that promise had been given before his job at the Bureau had imploded. Before he'd broken every rule that mattered…for her. Only to have Penelope run from him. But now she's back, wanting his help, telling him that they need to stop a killer. And once again, Elijah realizes he will do just about anything for her…even kill to keep her safe.
THE BODYGUARD NEXT DOOR (Wilde Ways, Book 15)
Does it get better than having a seriously buff, ready-to-handle-any-threat bodyguard…right next door? For Iris Stuart, this turn of events is probably the best thing that has ever happened to her. But falling for sexy Pierce Jennings wasn't supposed to happen. She's the bad girl. He's the hero. Except…maybe a bad girl can win the heart of the hero, provided, of course, that they can survive the danger heading their way.