What Happens in Vegas (And a Contest Alert!!) Back to Blog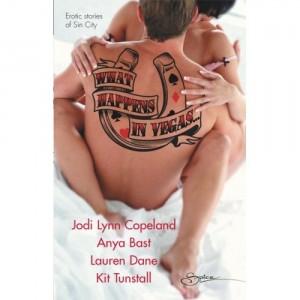 I loved this book. Loved it. WHAT HAPPENS IN VEGAS is an absolutely fantastic, sexy anthology. The writers in this anthology–Anya Bast, Jodi Lynn Copeland, Lauren Dane, and Kit Tunstall–each bring a unique, intriguing tale to the mix. The characters are likeable, fully formed. The pages are steamy. The stories are great. (In the interest of full disclosure, these talented ladies are my "Bradford Sisters"–but even if they weren't, I'd still be talking about the book. It is hot.)
And because I loved this book so much, I'm going to give a copy away to one commenter. Just leave a comment here and I'll be back on Tuesday to select a winner. Easy huh? Well, here's what you have to comment about: Have you ever been to Vegas? And if so, are you glad that the secrets of your trip "stayed in Vegas" or did you play it innocent in Sin City?
A big congratulations to the authors of this anthology. And, hey–they've got a second Vegas anthology coming out next year (WHAT HAPPENS IN VEGAS II), and it's a paranormal anthology! You know I'll be doing a serious advance order on that one.
Update:  A very good question has come up!  Okay, for this contest, you can post your responses here or on my blog over at MySpace (www.myspace.com/cynthiaeden).  I'll put all the comments together and choose a winner.
Tweet It