Spread the Word…MINE TO TAKE is only .99! Back to Blog
THANK YOU for helping me to spread the word! Thank you!!!! The winners were randomly selected, and those individuals are:
$50 gift card – Carly
$25 gift card – Valerie
5 early SHARPSHOOTER copies are going to: Texas Booklover, Jessica, Andrea F., Jackie W., and Gladys.
Congratulations! All winners will receive an email ASAP! 
*****Second update…Gladys, my email to you bounced back.  ;(  When you have a chance, please send me a note at cynthia@cynthiaeden.com to claim your prize. Thanks!

Lust. Love. Obsession.
How far would you go to possess the person you want the most?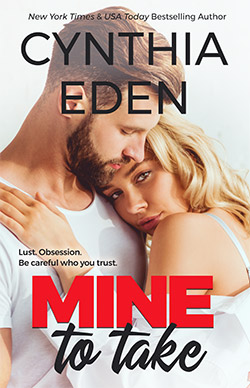 There are just a few more days left in my .99 MINE TO TAKE sale.  Want to help me spread the word about this deal on my dark & sexy new romantic suspense?  There are prizes involved. 😉
What to do:
If you want to enter the giveaway, just share the news about MINE TO TAKE. You could put up a Facebook post about the book, you can share the cover, you can tweet about the book, you can blog about it, etc–whatever works for you!  (Please note: if you tweet about the book, use the #MineToTake hashtag so that I will see your entries. If you post on another venue–like Facebook or your blog–just leave me a note in the comments section to tell me about that post.)  Each time you post, that posting counts as one entry.  So multiple posts count as multiple entries. And, yes, you can post on multiple days.
The prizes:
Want to know about the prizes? Here we go…
$50 Amazon.com or Barnes & Noble gift card
$25 Amazon.com or Barnes & Noble gift card
5 early copies (as in, I'll send them out next week and you don't have to wait for the August release) of SHARPSHOOTER, my next Harlequin Intrigue
Contest-y Details:
The contest will run from now until midnight on Saturday (6/22).  Winners will all be contacted on Sunday, 6/23.
Thanks so much for helping me to spread my MINE TO TAKE sale news!
Tweet It