It's almost time for Remy's story!
Less than a month to go until the 10/25 release!
Remy (Rembrandt) first appeared in THE BODYGUARD NEXT DOOR. He's the brother of Iris (yep, the heroine from THE BODYGUARD NEXT DOOR), and the guy had certainly been up to some shady business. Remy just *had* to pop up again in EX MARKS THE PERFECT SPOT, and since he was so determined to keep appearing, he got his own book…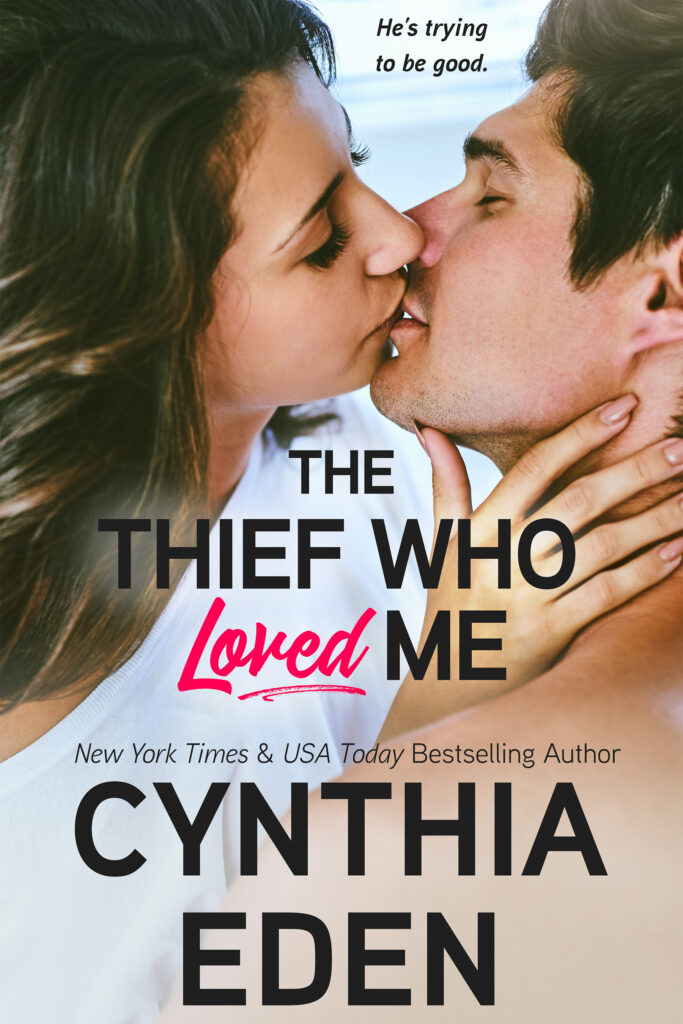 𝐈𝐭'𝐬 𝐡𝐚𝐫𝐝 𝐭𝐨 𝐛𝐞 𝐠𝐨𝐨𝐝. 𝐀𝐧𝐝 𝐫𝐚𝐭𝐡𝐞𝐫 𝐞𝐱𝐡𝐚𝐮𝐬𝐭𝐢𝐧𝐠…
After a lifetime of sin, Rembrandt "Remy" Stuart is finally on the road to redemption, but a former bad guy must always watch out for temptation. His temptation? It comes in the unexpected but ever-so-seductive package that is Jacqueline Peters. One look, and he's hooked.
𝐅𝐫𝐨𝐦 𝐭𝐡𝐞 𝐦𝐨𝐦𝐞𝐧𝐭 𝐡𝐞 𝐬𝐞𝐞𝐬 𝐡𝐞𝐫, 𝐑𝐞𝐦𝐲 𝐢𝐬 𝐢𝐧𝐬𝐩𝐢𝐫𝐞𝐝.
He's never been one to rush to the rescue—not really his thing—but when a shoeless Jacqueline enters the crowded bar, Remy can practically feel her fear. The beautiful woman is running from something—more like someone—so Remy decides to be her knight in severely tarnished armor. For a price, of course. Because nothing is ever free. Certainly not him.
𝐇𝐢𝐬 𝐩𝐫𝐢𝐜𝐞? 𝐉𝐚𝐜𝐪𝐮𝐞𝐥𝐢𝐧𝐞 𝐰𝐢𝐥𝐥 𝐛𝐞 𝐡𝐢𝐬 𝐦𝐮𝐬𝐞.
He'll give her a job and a safe place to stay, but, in return, she has to pose for him. She'll be his model as Remy finally tries to create work of his own and not, ahem, just incredible forgeries that can be used by all sorts of dangerous criminals—the people that Remy knows too well. And if Remy and Jacqueline happen to give in to the burning hot attraction between them, attraction that grows even hotter with every moment that passes, then who is he to argue with fate?
𝐒𝐡𝐞 𝐧𝐞𝐞𝐝𝐞𝐝 𝐚 𝐡𝐞𝐫𝐨. 𝐒𝐡𝐞 𝐠𝐨𝐭 𝐭𝐡𝐞 𝐛𝐚𝐝 𝐠𝐮𝐲.
Jacqueline is sweet and good, careful and controlled, and she may just be everything he ever wanted. And she mistakenly thinks he's some kind of hero. Adorable but…so not the case. When danger from her past follows her to Remy's, he'll have to show her who he really is. Because there is no way that he's going to let anyone hurt his muse. Being good can only get a man so far.
𝐁𝐮𝐭 𝐛𝐞𝐢𝐧𝐠 𝐛𝐚𝐝…𝐭𝐡𝐚𝐭 𝐣𝐮𝐬𝐭 𝐦𝐢𝐠𝐡𝐭 𝐬𝐚𝐯𝐞 𝐭𝐡𝐞 𝐝𝐚𝐲.
Author's Note: THE THIEF WHO LOVED ME is a stand-alone romance with a guaranteed happy ending. Sometimes being good can be so very hard, and Remy was never really cut out for the "good" life. Remy is about to have his world turned upside down, but don't worry, some of his "Wilde" friends will be there to help him out.
Tweet It