Katie Reus and Fatal Deception (With giveaway!) Back to Blog
I always enjoy it when guests come by to visit my blog. 😉 And today, I'm very happy to have fabulous author (and friend!) Katie Reus here with us.  Thanks for coming by, Katie! And congrats on your release!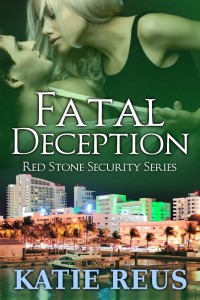 Thank you so much to Cynthia for having me here today! As a thank you I'd love to give away a digital copy of my recent release, Fatal Deception, to one commenter.
Romantic suspense is one of my favorite genres to read and to write in. I love the blending of romance and suspense! There's nothing hotter than reading about two people falling in love while running from dangerous villains. Over the past year I've been self publishing a series of romantic suspense stories (Red Stone Security series) and the reader email I've received has been amazing. If you've read No One to Trust and Danger Next Door then you'll know that Harrison is the married brother of the heroes in the first two books. A similar theme in many of the emails I've received is readers wanting to know why I didn't write Harrison's story. I had always intended to write his story as the third book in the series, but I guess the natural assumption was that since he was a married character he wasn't getting a story. And that's definitely not the case!
I've been married for almost nine years (gah, how is it that long already?!) and for anyone who is married or in a long-term relationship, I'm sure you know how tough things can be sometimes. It's definitely not rainbows and unicorns all the time because that's just life. And that's the reason I wanted to write a story about a couple already married. Even though they've already said their 'I dos', they have issues to work through just like the couples in the first two books. This book has only been out a couple weeks but I've been pleasantly surprised by the reader emails telling me they love reading about a married couple so I hope if you check it out that you enjoy it too.
Today I'd like to share a brief excerpt Fatal Deception:
***
Harrison gripped the steering wheel of his truck so tight his knuckles were white. He should be in a great mood, but there was a dark cloud that had been hovering over him the past few weeks. The wall that had been growing between him and his wife was getting higher every day.
Taking the turn a little too sharply into the quiet Coral Gables neighborhood where he lived with his wife, he wasn't surprised when she didn't bat an eyelash in the passenger seat.
It took a lot to get Mara riled up, but lately she'd been edgy and distant. At first he'd wondered if it was because they'd gotten married so soon after meeting each other. From engagement to marriage had been less than a year. They hadn't been able to keep their hands off each other and the sex had been off the charts. Thankfully nothing had changed in that respect, but for the past few weeks she'd been leaving early from the shelter where she volunteered, and was evasive about where she'd been going afterward.
"It was good to see Grant so happy," Harrison said as he steered into their driveway and waited for the garage door to lift. His brother was in a better mood than Harrison had ever seen him. Over six months ago, Grant had been injured in an explosion that left his face, back and one of his arms scarred. Until getting involved in a relationship with Belle, his new next door neighbor, he'd been close to becoming bitter and reclusive.
Mara nodded tightly, her normally relaxed features holding a hint of unease. "I agree. If anyone deserves happiness, it's him."
They'd just come from a barbeque at Grant's place to meet his girlfriend/soon-to-be-fiancé and her extremely large extended family. They'd had a good time, but Mara continued to pull away from him emotionally and he was about to lose his mind. What had happened to make her withdraw from him?
"Do you think he'll propose to her?" Mara asked, the question surprising him. Lately whenever they spoke he was the one who initiated conversation.
"Yeah, he showed me the ring." His brother had been so nervous, but there was no way his girlfriend would say no.
Mara chuckled softly and, for the first time in weeks, it didn't sound forced. "I wondered why he kept patting his pants pocket all day."
It would be just like his wife to notice something like that. Not much got past her, a trait he found sexy, but right now he was wired too tight to play nice. As the garage door closed behind them, she started to get out of the truck but he placed a hand on her forearm. Tensing under his touch, she turned to look at him, her normally bright green eyes filled with anxiety. "What's been going on with us the past month?" he asked softly, though the question sounded like a sonic boom in the quiet enclosure.
She pasted on a bright smile that might have fooled anyone else, but he could see the wariness in her eyes. "What are you talking about?" Placing a hand over his, she squeezed gently.
"You know exactly what." His voice was a low growl, but she barely seemed to notice. Or if she did, she was ignoring it.
Instead of responding, she turned in her seat and slid one hand up his arm as she started to crawl toward him. He inwardly groaned when he realized what she was doing. The past few weeks anytime he wanted to talk, she literally jumped him. Sex was her way of distracting him. And it normally worked. Not tonight though. Placing his hands on her shoulders he held her away from him. His erection pulsed against his fly, pissed as hell that he'd stopped her.
The hurt in her eyes was real and that tore at him. "Are you stopping me?" Okay, and the hurt in her voice was even worse.
"We can't use sex to fix everything." God, was that actually him talking? His hot wife wanted to have sex in his truck. He should have her naked and riding him by now.
 ***
Fatal Deception description:
Mara Caldwell is a woman with a dark past. She made a clean break from her old life, never imagining her secrets could come back to haunt her. When an old enemy surfaces and threatens the world she's created for herself Mara is prepared to give up everything, including the husband she loves if it will keep him safe.
Harrison knew his wife had secrets when he married her, but when he discovers the truth, it's far worse than he imagined. He's determined to protect her from a deadly enemy who wants to destroy her, but her lack of faith in him infuriates and wounds him. They must work together to keep her safe, but the man they're up against seeks to destroy everything they've built together. Including their lives.
Warnings: This book contains light bondage, hot sex, graphic language and a villain hell bent on revenge.
Purchase info: Amazon, Amazon UK, Barnes & Noble and Kobo Books
Thanks so much for stopping by today! Just leave a comment and be entered to win. Open internationally.
Tweet It