I recently had the pleasure of reading Parker Blue's BITE ME.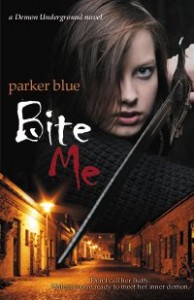 Here's the book's blurb:
Barely eighteen-year-old heroine Valentine Shapiro got a raw deal in the parent lottery. Her father was part incubus demon, and her mother's never forgiven her for that.
Life after high school is tough enough without having to go 15 rounds with your inner demon. Thrown out of the house by her mother, Val puts one foot in front of the other and does the only thing that seems to make any sense–she takes aim at the town vampires. A stake a day, keeps the demon at bay. (But don't call her Buffy. That makes Lola, her demon, very cranky.)
Her dark side makes everyday life a roller coaster, but means she's perfect for her night job as a bounty hunter. San Antonio's vampires are out of control, and it's up to Val, her faithful hellhound Fang, and her new partner, a handsome San Antonio police detective, to get the deadly fangbangers off the city streets.
Soon enough she finds herself deep in the underbelly of the city, discovering the secrets of the Demon Underground and fighting to save those she loves. Whether they love her back or not.
* * *
What did I think of this book? I thought it was wicked fun. I loved the heroine–a YA character who felt real and had one tough attitude. Smart-talking, a fierce fighter…and Val (Valentine) had one heck of a funny sidekick, too.
Non-stop action. Twists and turns. Monsters. Danger. And a cute hellhound. Come on, I couldn't ask for me.
Well, maybe I could ask for more…another book about Val. 🙂
(And Zoe, I have you to thank for my new interest in YA stories. First BLOOD AND CHOCOLATE, and now BITE ME…)
Has anyone else read a great book lately? Share!
Tweet It