Jeffe Kennedy: ROGUE'S PAWN Back to Blog
Hi, everyone! I hope that you're having a terrific week! Today, very busy author (and great lady!) Jeffe Kennedy is the guest at my blog.  She's sharing an excerpt from her new book, ROGUE'S PAWN–and giving a copy of the book to one lucky commenter.  Welcome, Jeffe!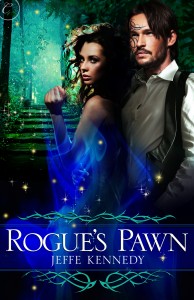 I'm so excited to be here on Cindy's blog. I first met her at the RT Convention, back in Orlando in 2009. I was the brand-new president of the Fantasy, Futuristic and Paranormal (FFP) chapter and a total newbie to RWA and romance writing. Cindy – as always – was the nicest person in the world to me. She's the only person I know who can be all sweet sugar Southern Belle on top, and all sexy, scary goddess underneath. Over time she's become a friend.
So when she offered to host my fantasy romance ROGUE'S PAWN here on her blog? I jumped at the chance! Thanks Cindy! I totally owe you a milkshake. 😉
***
Falcon slammed his hand on the table. "Enough with playing dumb, foreign sorceress. Let's get this done with."
Darling sat on the table in front of me. He blinked at me sweetly, swelling a purr. I saw him in a classroom with me, riding on the back of a horse during battle, then standing at my heel.
"He wants to be my Familiar?"
"Agreed," Lillibeth said.
The cat rubbed his cheek against my chin and padded back down the table. I wanted to ask exactly what I had agreed to, but my thoughts slipped away. Falcon and Healer wandered out of the hall, arm in arm, heads bent together as they laughed merrily over some private joke. Scourge rose to leave.
"Remember what I'm owed, Scourge." Rogue lounged back in his chair, the indolent lord of the feast. "I expect my merchandise returned in appropriate condition."
Scourge stilled. Then gave Rogue a curt nod and left.
"Lord Puck, you will miss the festivities, but you'd best convey your charge to her new home," Lillibeth said breezily.
The bowed-head lads pulled my heavy chair away from the table. Even looking up at them, I couldn't quite get a glimpse of their faces. Was I supposed to stand now? Rogue and Puck pulled me to my feet, so I supposed so. Puck pulled my wrists behind my back, fastening them together by my silver bracelets, then did the same with my feet. I couldn't seem to resist. Why couldn't I think? I teetered there while Rogue steadied me.
"The wine?" I finally got out and Rogue touched my face in that way of his that seemed to be tender.
"Magic can't touch you while you wear silver, but it can touch something you then touch. You could never have protected yourself against it."
"It's better for the journey," Puck added. He clipped a leash to my collar.
For the first time, I really processed that I was going somewhere else, in someone's custody. Damned if I would cry again though, despite the aching emptiness in me that was the loss of everything I'd ever known.
"A moment, please, Lord Puck," Rogue said.
He held me by the shoulders, looking down at me, gaze inscrutable on the placid unmarked right side, intense, almost harsh on the left.
"A deposit on my debt," he said, then pulled me hard against him, one arm sliding around my waist, the other hand cradling my head. His lips touched mine, a soft brush at first. Then moving deeper, parting my mouth with a burning heat, soft and hard at once. Cinnamon, sandalwood and something more. With my hands chained behind my back, inclined against him, nearly off my toes as he held me up by the waist and skull, I had no power to pull back from him.
I couldn't return the kiss. Tried not to.
Tried and failed.
The edges of me blurred and I became the kiss.
I became a goblet held in his arms that he drank from, while the longing in me throbbed, pounding in my breasts and between my legs, melding with the horrible keening loss that also grew.
I knew then, profoundly, that nothing was under my control. Maybe never had been.
Rogue released my lips, eyes fulminous, like the blue flame of a Bunsen burner. He seemed about to say something. Then didn't. Through my haze, I caught roiling regret. He set me down, giving me a little push so that Puck caught me.
 ***
About Rogue's Pawn:
This is no fairy tale…
Haunted by nightmares of a black dog, sick to death of my mind-numbing career and heart-numbing fiancé, I impulsively walked out of my life—and fell into Faerie. Terrified, fascinated, I discover I possess a power I can't control: my wishes come true. After an all-too-real attack by the animal from my dreams, I wake to find myself the captive of the seductive and ruthless fae lord Rogue. In return for my rescue, he demands an extravagant price—my firstborn child, which he intends to sire himself…
With no hope of escaping this world, I must learn to harness my magic and build a new life despite the perils—including my own inexplicable and debilitating desire for Rogue. I swear I will never submit to his demands, no matter what erotic torment he subjects me to…
***
Purchase info: Amazon, Barnes & Noble, Carina
Jeffe Kennedy took the crooked road to writing, stopping off at neurobiology, religious studies and environmental consulting before her creative writing began appearing in places like Redbook, Puerto del Sol, Wyoming Wildlife, Under the Sun and Aeon. A BDSM  novella, Petals and Thorns, came out in 2010, heralding yet another branch of her path, into erotica and romantic fantasy fiction. Since then, erotic shorts in the Blood Currency series—Feeding the Vampire and Hunting the Siren—have come out from Ellora's Cave. Carina Press is publishing the Facet of Desire series, which includes Sapphire and Platinum. Her contemporary fantasy novel, Rogue's Pawn, book one in A Covenant of Thorns, came out in July, 2012. Jeffe lives in Santa Fe, with two Maine coon cats, a border collie, plentiful free-range lizards and frequently serves as a guinea pig for a professional acupuncturist.
Find her on Facebook (https://www.facebook.com/Author.Jeffe.Kennedy) and Twitter (@jeffekennedy) or visit her at her website http://jeffekennedy.com/.
CONTEST ALERT: Please leave a comment and be entered to win a copy of Rogue's Pawn.
Open to all readers, 18 years or older, who are legally allowed to participate in such a contest as allowed by their local laws. All federal, state, local, and municipal laws and regulations apply. Void where prohibited. No purchase necessary. By participating in the contest, participants agree to be bound by the decision of the contest sponsor. One commenter will be selected using random.org. The winner's name will be posted in the comments section of this blog after 9/13/2012 noon US Central time (so check back) with instructions on how to contact Jeffe. The winner must contact Jeffe Kennedy within two weeks to claim your prize.
Tweet It