The Wolf Within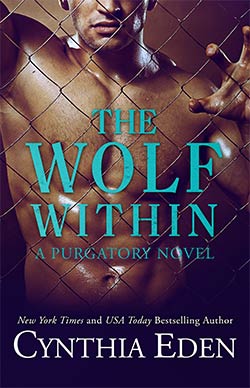 Free Ebook
Available at
Also Included In
Description
FBI Special Agent Duncan McGuire spends his days–and his nights–tracking real-life monsters. Most humans aren't aware of the vampires and werewolves that walk among them. They don't realize the danger that they face, but Duncan knows about the horror that waits in the darkness. He hunts the monsters, and he protects the innocent. Duncan just never expects to become a monster. But after a brutal werewolf attack, Duncan begins to change…and soon he will be one of the very beasts that he has hunted.
Dr. Holly Young is supposed to help Duncan during his transition. It's her job to keep him sane so that Duncan can continue working with the FBI's Para Unit. But as Duncan's beast grows stronger, the passion that she and Duncan have held carefully in check pushes to the surface. The desire that is raging between them could be a very dangerous thing…because Holly isn't exactly human, not any longer.
As the monsters circle in, determined to take out all of the agents working at the Para Unit, Holly and Duncan will have to use their own supernatural strengths in order to survive. But as they give up more of their humanity and embrace the beasts within them both, they realize that the passion between them isn't safe, it isn't controllable, and their dark need may just be an obsession that could destroy them both.
Author's Note: THE WOLF WITHIN is an adult paranormal romance. It contains werewolves, vampires, adult language, sexy times, and lots of danger. Please consider yourself warned. THE WOLF WITHIN contains approximately 60,000 words.
Excerpt
Unedited excerpt from THE WOLF WITHIN by Cynthia Eden
"You were bitten by the suspect." Real regret tinged Pate's voice. "You know what that means…"
Bitten. No. The fuck, no. "Kill me," Duncan snapped. Because there was no way he'd become a monster. The werewolves only existed to torture and kill. To slaughter. Their beasts dominated. They attacked anyone and everything.
Just like they'd attacked his family.
I won't be like that. When he'd agreed to become part of the secret division, he'd known there would be deadly risks involved in his cases. He'd known the risks, and he'd long ago decided what he would and wouldn't become.
"No!" Elias yelled as he surged forward. "Pate, dammit, don't! You promised—"
Screw any promises that Pate had made to Elias. Now, Duncan remembered the feel of teeth tearing into his flesh. His neck. His shoulder. With all of those bites and the blood loss, he should be dead.
But he wasn't. Because his body was already transforming.
If a werewolf's bite didn't kill you…if you had the DNA that would enable you to become a beast, then just one bite from a shifted werewolf would infect you. Transform you.
I don't want to be—
"If you go rogue, I'll put a silver bullet in your head myself," Pate promised, green eyes glittering. Rogue. That was the term for werewolves who couldn't maintain their control. They lost all touch with humanity. Beasts. Monsters. Pate's gaze stayed locked on Duncan as the guy continued, "But you're one of us, and no one is putting you down yet. We're damn well going to give you a chance at survival first."
Pate didn't understand. He didn't get it. He was a suit who saw the wolves from a distance. Duncan had seen the newly transformed up close and personal. The beast took over. It was all basic instinct. All need and bloodlust.
Pate looked up and nodded toward the agents around Duncan. "Take him to Holly. She can take care of his wounds and start to get a read on him—"
He snarled. Duncan's body twisted and a fire seemed to burn beneath his skin. "Not…her…"
The boss didn't know how Duncan felt for the pretty, little doctor. Holly was already his temptation with her sweet smelling skin and her fuck-me eyes. He'd tried to stay away because he'd known she was too fragile to handle someone like him.
If she hadn't been able to handle the man he'd been, there was no way she'd be safe around his soon-to-be-emerging werewolf side.
"He's starting to change!" Elias's shout. "Drug him and get the guy in that ambulance!"
A needle was shoved into his arm.
Duncan kept fighting and trying to get them to understand, "Not…Hol…"
They were loading him into the ambulance. They weren't listening to him. Holly was the last person he should be around. He wanted her as a man. He knew that a werewolf's desires were just magnified.
And what the wolf wanted, he took.
Without thought. Without remorse.
No limits. No control. No conscience.
Just the beast.
He opened his mouth and only a growl escaped. Not Holly. Keep me away from her. I'll hurt her.
He could feel the fire spreading beneath his skin. Hands were on him, holding Duncan down because the drug wasn't working on him.
"Uh, is he supposed to be this strong?" One of the agents—Shane, he knew Shane, they played cards every Wednesday—asked nervously. "Cause this hoss is—"
The strap across his chest broke free, and Duncan lunged up.
Not Holly!
Another needle was jabbed into his neck. One straight into his heart.
"That'll stop a tiger," Pate panted out the words.
A tiger…
Or a werewolf.
Duncan fell back against the gurney.
Holly, I'm sorry…
His eyes closed.