Charming The Beast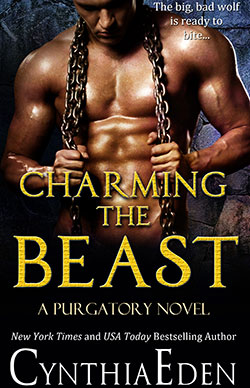 Buy Now
Available at
Also Included In
New York Times and USA Today best-selling author Cynthia Eden spins a dark and sexy new paranormal romance tale…
He's a man with a beast inside…
Connor Marrok never intended to work for the Seattle Para Unit. He's not one of the good guys—he's a real monster, and the beast he carries doesn't exactly play nicely. But now he finds himself being blackmailed into a new assignment. It's supposed to be his last gig. His mission? Protect the beautiful Chloe Quick. Keep her alive. Destroy her enemies. Easy enough…until he starts to fall for Chloe.
She just wants to escape.
Chloe is tired of being a prisoner. She wants to get away from her Para Unit guard and run fast into the night. So what if Connor is the sexiest guy she's ever met? Chloe knows trouble when she sees it, and Connor is one big, dangerous package of trouble. But, when an obsessed werewolf begins stalking Chloe, she realizes that her paranormal bodyguard may just be the one man she needs the most.
Their attraction is primal.
Every moment that Chloe and Connor spend together increases their attraction. Chloe has never felt a need so strong or a desire so dark. The beast that Chloe carries inside has always been silent, but Connor is stirring up her animal instincts.   And as the danger and desire begin to twist together, Chloe wonders just how far she'd be willing to go…in order to spend one more night in Connor's arms.
CHARMING THE BEAST – Book 3 in the Purgatory Series
The PURGATORY Series:
THE WOLF WITHIN – Book One
MARKED BY THE VAMPIRE – Book Two
CHARMING THE BEAST – Book Three
Excerpt
"I can disappear," Chloe promised him, her voice breathless. "Just give me a head start. I'll vanish and I promise, the Para Unit won't ever have to worry about me again."
Part of him wanted to let her go. It was her eyes…that gaze could make a man—or a paranormal—weak.
He didn't know exactly what end game Eric had planned for Chloe, but if Connor let her vanish, then he'd be the one paying for it. His freedom hinged on his doing this mission, and no one—not even a woman as sexy as she was—would stop him.
Connor shook his head. "No head start. You don't escape from me."
Then he heard footsteps—people approaching. Dammit. His head turned and he saw three men stumbling toward him. Their scents marked them as human, and in another instant, they'd see him and Chloe.
He felt Chloe tense against him. He knew she wasn't going to just let this opportunity pass by. She was going to scream and no doubt bring those drunken fools running. Then he'd just have to hurt them.
Before she could scream, before those fools could rush to her aid, he lowered his head, and he kissed her.
She bit his lip.
Deep inside, his wolf growled in pleasure.
Chloe, no, you know the beast likes things like that.
She strained against him. She opened her mouth, as if to scream even then—and his tongue swept inside.
He'd known for a while that he wanted her. Most men looked at Chloe Quick and wanted her. But until that moment, until he'd had his first taste of her, he hadn't realized just how truly dangerous she could be to him.
Because something happened. To him. To her. He felt her body stiffen, felt shock rock through them both. Because the desire that came right then—as he kissed her, as his tongue slid into her mouth and she actually fucking kissed him back—was unlike anything he'd felt before. It was as if a match had been ignited, and that small flame turned into an explosion, consuming him.