WAITING FOR CHRISTMAS – Available now! Back to Blog
It's here! WAITING FOR CHRISTMAS is officially available in print and ebook. I am so excited to bring readers a brand new Christmas romance. I love this time of the year so much! I hope this book puts you in the ho-ho-holiday mood. 😉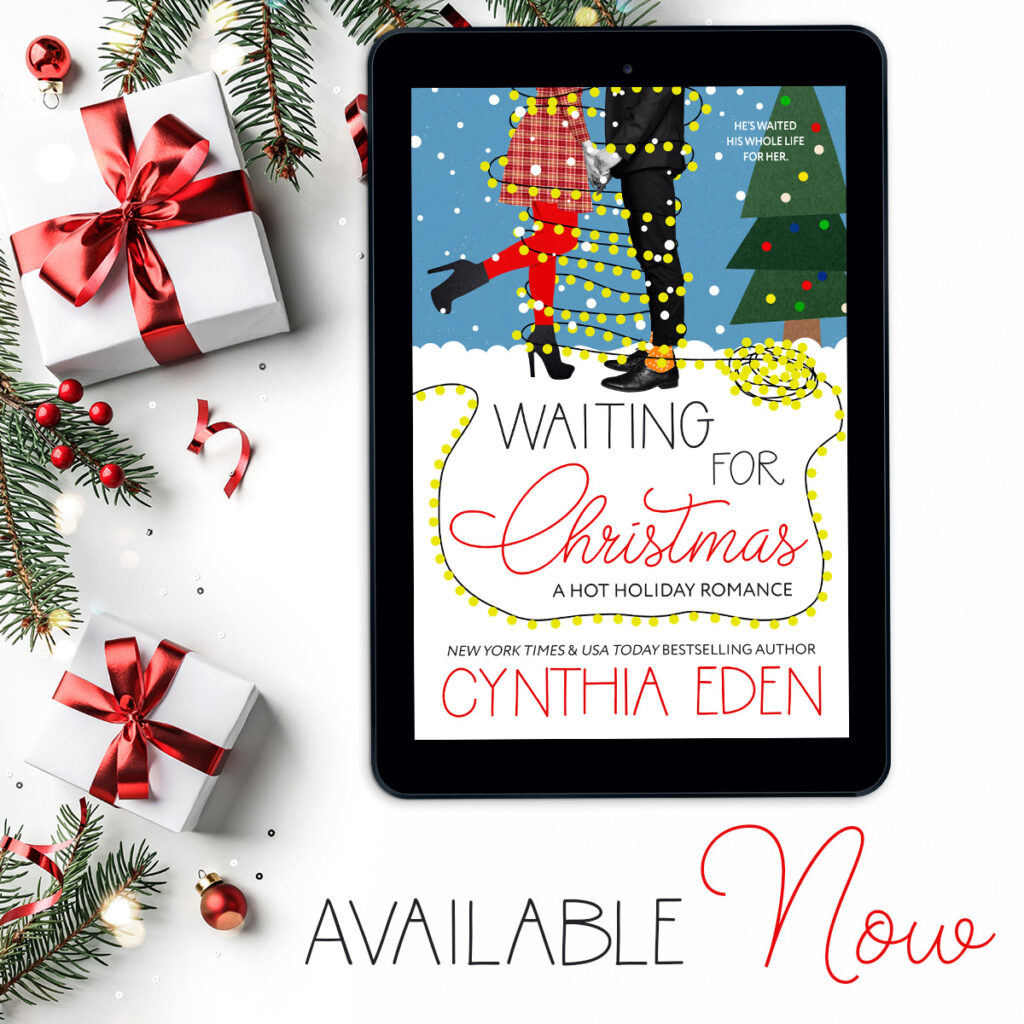 Unwrap a hot holiday romance.
How long has he been waiting?
His whole life. That's how long Wyatt Roth feels like he has been waiting for Christmas "Christy" Sharpe to realize she's meant to be with him. But gorgeous and vivacious Christy has always seen him as just her little brother's best friend. One ridiculous year—he's only younger than her by one year—and doesn't she get that he's grown up? He's a doctor, part of an elite special operations surgical team—a team that has been trained in medicine and in military battle. There is no fight he can't win. He won't give up on her.
She's home for the holidays…but running scared.
The last thing he expects is to find a terrified Christy on his doorstep just days before Christmas. But a stalker has sent her running to the only place she has a safe haven. Wyatt takes her in and vows to protect her. No one will be hurting Christy on his watch. And with her finally under his roof—finally staying close 24/7—he can show Christy that he's been there for her all along.
Right. There. Waiting.
When did Wyatt Roth get so big? So dangerous? So…insanely sexy with all of his muscles and that tempting grin? Christy can't believe it when the tall, hot doc answers the door and immediately vows to protect her. She has an ex who won't let go, and the guy has been scaring her so badly that she had to rush away in the middle of the night. But now Wyatt is promising to keep her safe, the magic of the holiday season is surrounding her, and when she finds herself sharing a passionate kiss with Wyatt under the mistletoe Christy realizes…
Maybe what she's wanted her whole life has been right in front of her.
What happens when the boy you knew grows into a rugged, too sexy to be true man? A man who has deadly skills, wicked wit, and an amazing kissing ability? During the magic of the holidays, anything can happen. But you have to be careful, because danger is always close, and the thing you want most in the world…just might be lost in the blink of an eye.
Time for some holly, jolly romance…with a side dose of suspense. WAITING FOR CHRISTMAS is a hot holiday novella (33,000 words) designed to get you in the ho-ho-ho spirit. Fall in love, get your heart racing, and prepare to be both naughty and nice as you sink into the story.
Tweet It