The Monster Spin — Kelly Gay Back to Blog
Winner of the ARC — drawn by the fabulous Kid randomly chosing a number (her birthday, no surprise) is . . . Melissa T. Send your mailing info to me at kelly@kellygay.net. Congrats, Melissa!!
***
One of my favorite things about reading and writing urban fantasy are the monsters! From the sexy right down to the out-and-out disgusting, I love them all. It's a wide open world, where we writers can modify, or create from scratch, any kind of monster imaginable. Like so many others, I adore vampires, werewolves, angels, demons, fairies and shape shifters. But, holy cow, do I love it when an author modifies these beings and puts her own, unique spin on them. This, to me, is what makes them special and memorable, that which sets them apart from the cultural myths and legends that spawned them. Think of it as evolution. Monster evolution. J
A few recent 'spins' that come to mind that I have really enjoyed is Jaye Wells's take on vampires in her debut urban fantasy, RED-HEADED STEPCHILD and the connection to the biblical Lilith. Or Ilona Andrews's vampires in her Kate Daniel's series. She turned the idea of the vampire and master on its head with her grotesque creatures and the powerful beings that control them. Or Mark Henry's zombies in his Amanda Feral series. The list goes on…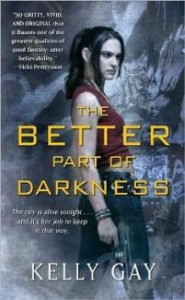 For one of the races/creatures in my debut, THE BETTER PART OF DARKNESS, I decided to put a spin on a creature known as the jinn. In my mythos, they were the basis for the human legends of demons. My jinn are a hulking warrior-like species, insanely territorial and tribal. All the males are bald, completely hairless in fact, with varying shades of gray skin. They also enjoy jewelry, piercings, tattoos, and have a penchant for hot, damp, underground climates. They've also got some interesting powers and a very complex social structure where the strongest rules with complete and total authority over the tribe. But any more than that, you'll have to read… J
. . . read, you say? But, Kelly, your book isn't out yet, you say? Ah, but I have ARCs people! Just leave a comment telling me what fictional beings/monsters out there you like and (optional) what 'spins' or unique aspects you like about them, and one winner will win an ARC of THE BETTER PART OF DARKNESS. [Just be aware not use any spoil-ery type info. If the spins in which you speak are from a well known/established series or found easily on the Author's site or back cover copy, then by all means, but if it's some little known fact or something from a debut that would spoil the surprise for the rest of us – please make sure you write ****SPOLIER**** first!]
Thanks for having me here, Cynthia! It's been an honor to come to your most excellent blog and visit for a while. And an early Happy Halloween to everyone!
Kelly
_________
THE BETTER PART OF DARKNESS
(Pocket Books, November 24, 2009)      
Tweet It