THE DEVIL IN DISGUISE – Free! Back to Blog
THE DEVIL IN DISGUISE – FREE!
Okay, we are in the home stretch…there is less than a MONTH until the release of Leo's story, TEMPTED BY FATE. TEMPTED BY FATE is book 6 in my paranormal "Bad Things" series…and in this book, our Bad Things will come full circle.
To celebrate this upcoming release, THE DEVIL IN DISGUISE is currently listed as FREE at Amazon, Nook, iBooks, and Google Play. If you haven't read this series yet, this is the time! The free deal will not last long. Just my way of celebrating a series that I have LOVED writing.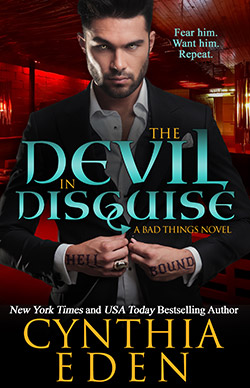 Tweet It