Let's start this new month with a sale, shall we? 😉 For a limited time, you can get JINX, YOU'RE IT for just .99. 😍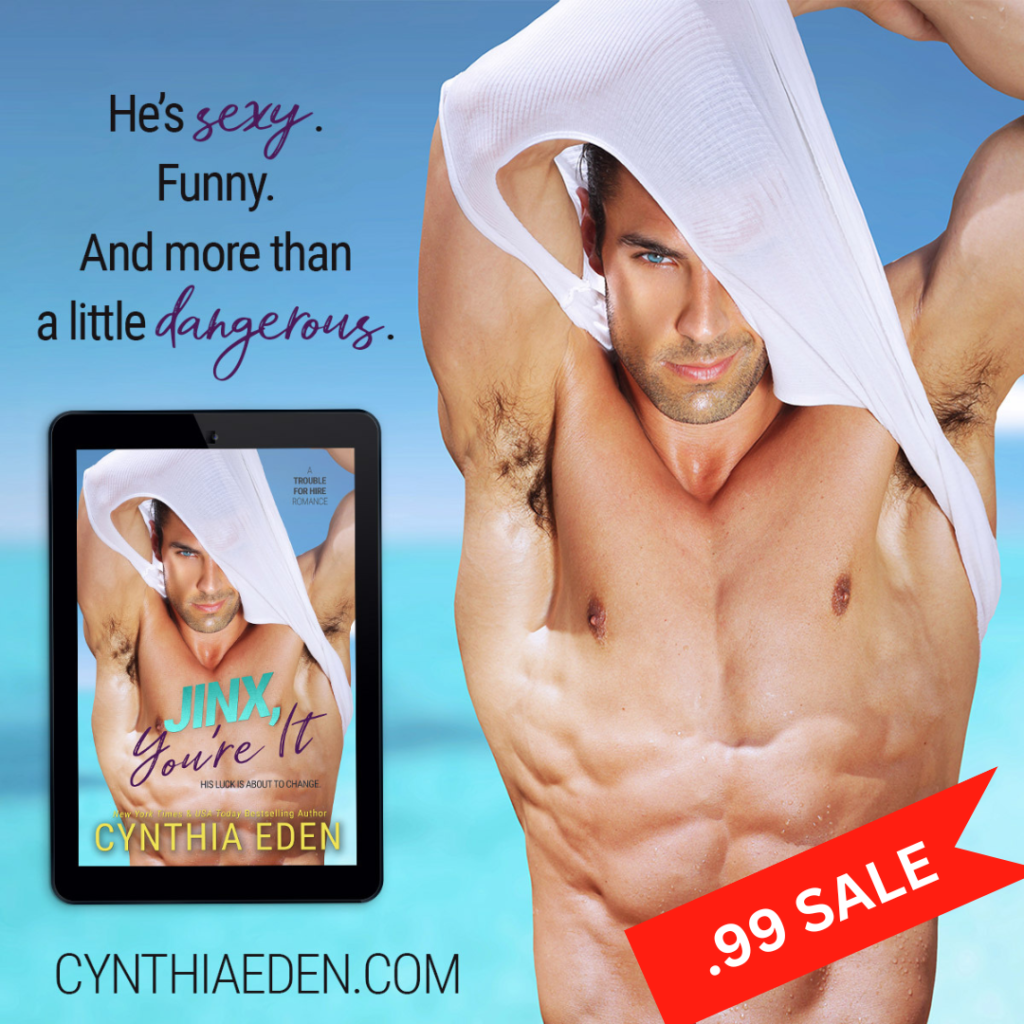 JINX, YOU'RE IT
Jinx lives for his good times. With a ready smile and quick joke, his charm carries him through most rough situations. And when his grin doesn't work, he just uses the down and dirty skills he acquired working Special Forces to get the job done. Life is easy, his luck is perfect, and nothing will slow him down. Except maybe…her.
𝐈𝐭 𝐰𝐚𝐬 𝐚 𝐨𝐧𝐞-𝐧𝐢𝐠𝐡𝐭 𝐬𝐭𝐚𝐧𝐝 𝐬𝐡𝐞 𝐬𝐡𝐨𝐮𝐥𝐝 𝐟𝐨𝐫𝐠𝐞𝐭.
Alison "Ali" Carter does not have time for handsome playboys—not even the ones with killer blue eyes and abs that last for days. Sure, she might have given in just one time and let her desire for Jinx take over, but she is not about to repeat that mistake, no matter how great the night was. She's down on the Gulf Coast for a week of sun and relaxation. Jinx isn't part of the plan.
𝐔𝐧𝐭𝐢𝐥 𝐡𝐞 𝐢𝐬 𝐭𝐡𝐞 𝐨𝐧𝐥𝐲 𝐩𝐥𝐚𝐧.
Trouble has followed Ali down to the coast. On her last classified mission, she acquired a most dangerous stalker. The kind of guy that you can't ditch, no matter how hard you try. The kind of guy who can scare a woman to death. And to help Ali deal with him? A most unlikely hero offers up his services.
𝐇𝐞 𝐰𝐚𝐧𝐭𝐬 𝐡𝐢𝐬 𝐬𝐞𝐜𝐨𝐧𝐝 𝐜𝐡𝐚𝐧𝐜𝐞.
When Ali walked away from Jinx, it shouldn't have hurt. He should have forgotten her and moved on. But since that fateful night, she's been in his head. Been tormenting his dreams. So when she appears in his PI office and she's in danger? Jinx immediately leaps into action. He'll show Ali that he's more than just a fast grin. This time, it's not about being lucky. This time, it's about protecting Ali and maybe, just maybe…winning her heart.
Tweet It