IMMORTAL DANGER – Available now! Back to Blog
Re-Release news!!

It has been twelve years (almost to the day!) since I first published my vampire romance, IMMORTAL DANGER. I recently received the rights back to this story from Kensington, and I'm happy to say that I have updated/revised the story…and it is available again now!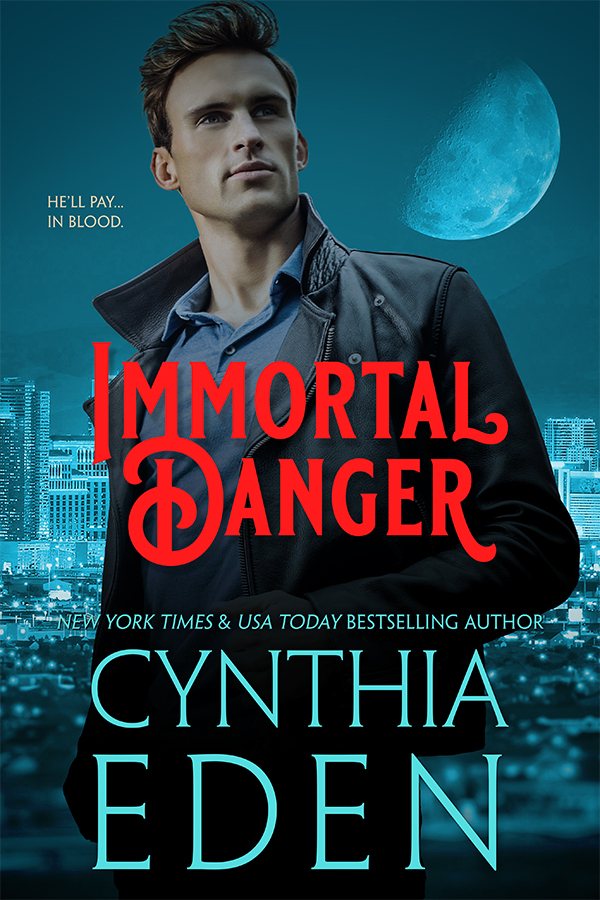 To get her help…he'll have to bleed for her.
Adam Brody is desperate—he'll do anything to get Maya Black to help him. And, unfortunately for him, the price of Maya's services…is blood. A former cop turned vamp, Maya's reputation definitely precedes her. Once upon a time, she helped the weak and innocent. Now, she spends her nights terrifying demons and all manner of paranormal beasts. According to the stories, she is the baddest of the bad…and she's exactly the vamp that Adam needs. The only one who can help him.
Maya's days (and nights) of helping are long gone—she stopped that routine when she bled out in a dirty alley and woke with bloodlust and fangs. But now she's got a sexy stranger standing in front of her, offering her anything she wants, as long as she helps him find his missing niece. Okay. Fine. Maybe somewhere deep in her cold, cold heart, she has a vague soft spot for kids…and for gorgeous, muscled, hot guys. So she'll help him. This once. She'll take the blood payment he offers, and she'll find the kid.
Except…
Adam has secrets. The kind of secrets that can burn a whole town straight to ash. The longer that he's around Maya, the more uncontrolled he becomes as the beast he keeps locked inside himself fights for freedom. Adam didn't count on falling for the fearless vamp, but now that he's under her spell, Adam isn't sure he can ever imagine a life without her…And when someone like Adam finds a mate, that bonding lasts forever.
Author's Note: Strap in…it's going to be one hot ride. Maya and Adam are about to fight the baddest of the supernatural predators out there. They're also about to find out that opposites can attract—and ignite. IMMORTAL DANGER is a full-length, paranormal romance with a guaranteed happy ending. 
If you haven't read IMMORTAL DANGER before…this is a great time to snag a copy! Actually, you can get started reading the prologue and first chapter right now–they are up on my website.
Tweet It