Deadly Days Guest: Ann Aguirre Back to Blog
Update: The winner of a SKIN TIGHT copy is…Raelena!! Congrats!! I will email you with prize claim details. Thanks for all the comments!
First, thanks to Cindy for having me today! Today is the release of SKIN TIGHT, which features one of my favorite heroes of fall time. Why? Because he's an antagonist in the first book, and I love a redemption. He also does something fairly despicable in SKIN GAME, which made for a fun setup for his romance with his heroine. She's pretty freakin' mad at him when their book starts. In fact, she's pretty devoted to the idea of taking him down. How does that change? Well, you need to read the book.
But villain to hero is one of my favorite tropes in general because I love a redemption story. When an author can sell me on the reformation of this character, it blows my mind. That takes true skill, especially if that person aroused your antipathy in a prior volume. Kimberly  Cates does this brilliantly in Briar Rose; Lionel was a wonderful villain, and then he gets his own book.
How do you guys feel about redemption arcs and the villain getting his own story? What are some of your favorites? A random commenter will receive a copy of SKIN TIGHT.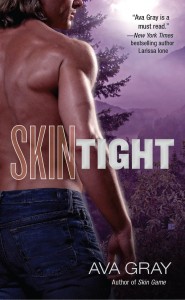 Tweet It