30 Days of Demons, Day 21: One Sweet ARC! Back to Blog
Update:  The winner of Jessa Slade's ARC is…Michele! Congrats, Michele!  I'll email you with prize details.  Thanks for all the wonderful comments!
Hi, everyone!  You're in for a serious treat today–one very lucky commenter will win an ARC of Jessa Slade's October release,  SEDUCED BY SHADOWS. I took a look at the cover the other day–and, wow, what a cover. Wait–look.  See what I mean?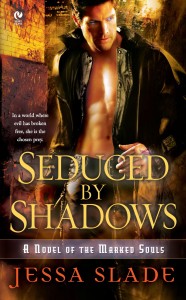 This looks like one fantastic new series, and I' m eagerly waiting for the October release!  Jessa, welcome to my demon fun!
***
First, let me say Thank You! to Cynthia for letting me play on 30 Days of Demon. This is my first guest posting, very much in advance of the October release date of my first book.  And in a paragraph of firsts, I am thrilled to say that my first box of ARCs came in the mail on Friday!  So I'd like to give away the first copy to a commenter here today.
Have you ever had one of those days when you wonder, "What on earth possessed me?"
Possibly I'm revealing too much about myself here on Cynthia's blog, but I have those days faaaar too often.  Since I've heard that writing is the poor woman's psychotherapy, perhaps it's no surprise that my demons get exorcised on the blank page.
In my debut urban fantasy romance, SEDUCED BY SHADOWS, I asked, "What if some demons felt… well, bad about the whole eternal darkness bit? What if they wanted their shot at redemption? What if they possessed certain tragically unlucky humans in a desperate attempt to repent – only to discover that sometimes being good isn't as easy as a fallen angel might hope?"
It certainly explains some of my less stellar moments.  How 'bout yours?
Because while it might be simpler to explain why bad people do bad things, from my earliest days in Sunday school, I wondered why good people do bad things.  We curse.  We lie.  We neglect to tell the people we love how much they mean to us.  What possesses us?
My hero, Ferris Archer, has been possessed by a teshuva – a repentant demon – for a very long time.  He knows it's not an excuse for his bad behavior; no, it's a challenge, to fight harder for what's left of his demon-mottled soul.  But when he meets Sera Littlejohn, the first female possessed, he fears now for his heart.  He'll have to find the courage to embrace the other half of his soul or face a damnation darker than even he can believe.
But contemplating the infinite concepts of good and evil can overwhelm us, whether we're demon, human or something in between.  And while we're guiltily wondering what possessed us, maybe you've had the sneaking suspicion that being bad can be awfully good, as Sera discovers early on in SEDUCED BY SHADOWS:
***
Sera walked into her bedroom, still naked. Damp heat followed her out of the shower in a slowly uncoiling mist. Only the slant of streetlights through the blinds lit the room, casting deep purple shadows. And he was there, a lean, dark outline with his black trench coat buttoned tight. Spicy musk teased her senses.
She blinked. "I'm dreaming. That's why I'm wandering around my apartment naked. I never wander around naked."
"Not wandering. You were coming. For me." He stood unmoving, but the trailing edge of his long coat shifted in a draft she didn't feel. "I will make it a sweet dream."
She touched her forehead, in lieu of pinching herself and drawing his attention to her naked parts. Dripping strands of her hair tangled around her wrist. "I don't need a wet dream tonight. Go away."
He moved closer. "You called. You've called forever."
"I don't even know you… "  She trailed off when he raised a hand to brush back her hair. He had the square, blunt hands of a working man, but his thumb feathered across her temple, almost too lightly to feel. The touch sent ripples of shivery sensation through her body like a pebble in still water.
It was just a dream, she reminded herself.
"So lonely," he murmured. "So lost."
"I'm sorry for you, really. But I can't help you."
"You're the only one who can. But I meant you, my love." He stroked the back of his knuckles along her cheek. "You've been alone so long, so long afraid, close to giving in, calling all the while."
"I'm not . . . I am not your love." She pulled away.
"I've breathed your soul. Whom else can I love?"
"You haven't breathed on anything of mine." Her skin prickled at the thought—a pleasure she hadn't indulged in in a long time.
From behind, his hands slid over her shoulders, down her arms, then skipped to her bare hips.
That made her shy away as nothing else had. "Don't touch me." Not there. The unspoken words echoed in her head.
He held his hands framing the scars. The long shadows of his fingers hid the red and white puckers of stitched flesh. "I will make you whole again, as if you'd never been broken, nothing left behind."
Speaking of dreams, everyone said she was dreaming when she'd promised herself the same after her accident. "What, you're a physical therapist?"
"Quite the opposite."
While she pondered what that might be—as if the riddles in dreams even mattered—he eased her back against him. The leather of his coat was cool on her backside and shoulders. Her thoughts scattered.
"I will take away your loneliness, your fear," he said.
"I'm not afraid." And, stupidly enough, that was true.
He whispered into her hair, "You will be."
***
So what do you think?  Is the lure of the darkside too strong to resist?  As the real-life drama in Tehran plays out, do you wonder if there are times when being 'bad' is heroic?
Thanks for reading!  You can find Jessa at:
http://jessaslade.com

http://www.facebook.com/jessaslade
Tweet It