Shattered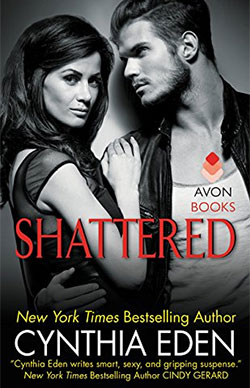 Buy Now
Available at
Also Available in Audiobook
In New York Times bestselling author Cynthia Eden's latest novel featuring the Last Option Search Team (LOST), one agent is forced to face her past as she uncovers secrets about the man who may be the key to her future.
Criminal psychiatrist Dr. Sarah Jacobs is all too familiar with the kind of bad boys who belong behind bars. But the dark, dangerous man she meets in the New Orleans underworld is a new kind of ruthless, and all too irresistible.
Jax Fontaine doesn't claim to be a good guy, but he's loyal to his own code and brutally honest about what he wants. He and Sarah may be worlds apart, but when they're skin to skin, nothing matters but the heat between them.
And when a deranged killer targets Sarah, Jax will do whatever it takes to keep her safe. . . .
Excerpt
SHATTERED by Cynthia Eden:
"Hello, pretty Sarah," he said. New Orleans drawled in his voice, just a hint of Creole rising and falling there. Jax smiled at her. Right. Dangerous. Definitely dangerous.
The elevator doors slid closed behind him.
Jax was tall, several inches over six feet, with broad shoulders and the kind of build that told her when he wasn't up to no good in the French Quarter, he had to spend some serious time working out.
The guy looked like a fallen angel—if fallen angels spent a whole lot of time scaring the hell out of people. His hair was blond, thick, and a little too long. His face—that face of his was eerily perfect. Almost too handsome. A strong, hard jaw, a long blade of a nose. He had sharp cheekbones and blue eyes that seemed to see right into her soul.
And the elevator isn't moving.
Probably because he'd leaned forward and pressed the stop button. What. The. Hell?
"I hear you're leaving town."
Her heartbeat spiked. When she was near him, that tended to happen. Her heart raced, her breathing came a little faster, and her stomach knotted.
Jax shook his head. "Leaving … and you weren't even going to come and tell me good-bye?"
Laughter came from her. Not real laughter. She couldn't remember what real laughter felt like. Tight and mocking, the laughter pushed out from her. "It's not like we're friends, Jax." They'd been uneasy allies on the last case. Jax had known intel that she'd needed about the killer.
"Why just be friends? That's boring." His gaze slid over her. That light blue gaze seemed to heat as it lingered on Sarah's body. "We'd be much better lovers than we'd ever be friends."
Her hands were pressed to the wall behind her—only it wasn't a wall. A mirror. Mirrors lined that elevator. To be very clear, Sarah told him, "I don't date dangerous men."
Jax stepped toward her. He didn't move like other men. He stalked. He glided. Kind of like some big jungle cat—a beast hunting his prey. His hand lifted and his tattooed knuckles slid over her cheek.
His touch made her tense. Mostly because it seemed like an electric shock flowed straight through her body when his skin touched hers.
"Who said anything about dating?" Jax asked her. His smile flashed at her, showing his even, white teeth. "I thought we'd just spend the next seven hours fucking."
Her chin lifted. "Start the elevator." Because she knew exactly what sort of huge mistake she'd be making if she got involved with a man like Jax. Sarah preferred to spend her time with men who were safe. Law-abiding. Men who didn't thrive on danger and adrenaline. Men who had no idea about all the darkness that existed in the world.
Safe men.
Jax wasn't safe. And if she wasn't careful, he'd see right through the mask she wore.