Midnight Sins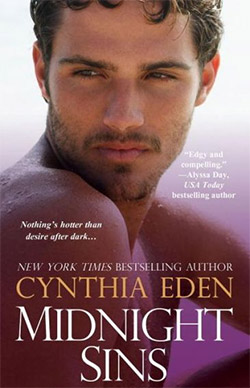 Buy Now
Available at
Mass Market Re-Release
Description
Cara Maloan doesn't look like a monster. In fact, the gorgeous blond nightclub singer possesses heavenly attributes that make Atlanta detective Todd Brooks sure there's a higher power somewhere. But a twisted killer is leaving a trail of bodies in seedy hotel rooms across town. The male victims show no wounds–it's as if the life was simply drained from them. And right now, mysterious Cara is Todd's only suspect.
Cara knows it's foolish to be so drawn to a man who thinks she's a murderer. She also knows Detective Brooks would find the truth even harder to swallow. Cara is one of the Other, a race of powerful, paranormal creatures who live among humans. Cara's particular abilities make men putty in her hands–all except this rugged, sexy-as-hell detective. But now someone, or something, has singled Cara out for serious payback…
As uneasy trust gives way to mind-blowing desire, Cara and Todd will go head-to-head with a killer whose mission is deeply personal, and who's determined to serve up revenge that's hotter than hellfire, and just as deadly…
"Edgy and compelling–Midnight Sins sizzles with sexy paranormal suspense."
–Alyssa Day, USA Today Best-selling author of Atlantis Awakening
Excerpt
Unedited Excerpt from Midnight Sins by Cynthia Eden (Kensington Brava, December 2008)
"Why do you do it?" Brooks asked, leaning toward her. He drew a ragged breath, as if inhaling her scent, then muttered, "You're so damn beautiful, I bet it's like fucking child's play for you to lure those men to you."
It always had been easy. She'd been born as a lure. Since his words were a bitter truth, Cara stayed silent. Reeling the men to her, no that had never been a problem.
None of the men had ever cared enough to stay with her.
An eternity of pleasure but a life lived alone. That was her lot in this world. The lot for all the succubi. She was just the only one not loving the deal.
"Do you get off on it?" Brooks asked, voice silky smooth. "Do you like the power? Like the control in bed?"
She swallowed. Sometimes, she wanted to lose control. To be taken.
His hand lifted, brushed across her cheek in a caress that lanced her flesh with its heat. "And at the end," he said, pressing in even closer, so close that for a moment she thought he was going to kiss her, "when the pleasure is pounding through you, how does it feel to kill your lovers?"
What? "No, listen, I've never—"
He grabbed her hands, yanked them up and held her tight. Not hurting her. Trapping her. "How do you do it? Drugs? An injection?"
She twisted her hands, trying to break free. "I don't know what you're talking about!" A lie. Killing a lover was so easy.
But not her way.
"Right, princess."
Her eyes narrowed at the mocking tone.
"You don't have any idea why we're here. You don't know Michael House, and you have no idea how your ID came to be at our scene."
"Wh-what—" She broke off, struggling to clear her throat. "What happened to Michael?" A murder scene, he'd said he found her bag at—
His lips tightened. "I thought you didn't know him."
"What happened?" She wrenched her hands away from him.
"Come down to the station, and I'll be glad to tell you."
She hurried back a few steps, and stumbled into the other guy—the shifter. Dammit, how had he moved so fast? When had the jerk circled behind her? "I'm not going anywhere with you."
One dark brow lifted. "Wanna bet on that?"
Not particularly.
The shifter's hands landed heavily on her shoulders. She jumped at the contact. His touch was cold to her skin, where Brooks had felt burning hot.
Brooks held her gaze. "You can do this the easy way and come with us willingly—"
"Or you can fight," the shifter growled in her ear, "and still wind up finding your ass downtown."
Oh, she didn't like him. Didn't like either of them. Her skin began to prickle as rage and power swept through her.
"Easy." The whisper was so soft she might have imagined it. The shifter's voice. Barely breathing in her ear.
She drew in a ragged gasp of air at the sound, drawing the cold oxygen deep into her lungs. Control. She couldn't shatter in front of them. They were cops.
Cops who were suspecting her of—what? Assault? Murder?
If she put up a fight, and used her power, she'd never be safe in Atlanta again. She'd have to run, and she wouldn't be able to stop running for a long, long time.
She wasn't the type to run. Never had been.
Her chin lifted as she made her decision. "I'll do it the easy way."
The human's lips began to curl.
"For now."
That wiped the smug smile right off his handsome face.
Reviews
"Eden's latest brims with passion, obsession and demons…A cast of creative secondary characters rounds out this romp that all but vibrates with sexual energy."
–Publishers Weekly
"Intensely depicted scenes, insightful dialogue and memorable characters are a given in any book by Cynthia Eden. The clever writing in MIDNIGHT SINS takes the reader to new levels of imagination…MIDNIGHT SINS is an exhilarating adventure where magic, passionate feelings and danger constantly collide."
–Amelia of Sensual, 5 Stars
"In a genre crowded with paranormal romances, MIDNIGHT SINS is a definite stand-out story. Bravo to Cynthia Eden for a book that thrills lovers of erotic romance, paranormal, and suspense equally!"
–Jennifer of Wild On Books
"Cynthia Eden is already on my top ten list and this book confirms why I feel that way. This book was fast paced and I had a hard time finding a place to stop so I could sleep."
–Megan of Bitten By Books
"This highly readable, fast-paced story makes the existence of paranormal creatures a perfectly normal background for the suspenseful search for a serial killer. Sure, the hero has to discover and accept the existence of all these other races, but the focus on the clues keeps readers racing through the pages. It's a very nice treatment of the paranormal, and the way Eden doles out information, both to readers and characters, is done very well."
–Bunny Callahan of Romantic Times Book Reviews, 4 Stars