Hotter After Midnight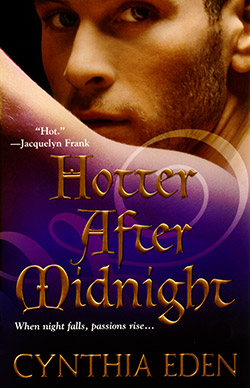 Buy Now
Available at
Description
A SEDUCTIVE NIGHTTIME WORLD
Dr. Emily Drake's patients tend to be a little unusual. Instead of the typical therapist's caseload of midlife crises and mother fixations, Emily treats vampires with blood phobias and sex-demons looking for meaningful relationships. But her gift for recognizing and healing the Other—those creatures of the night that most humans don't even know exist—requires a few house rules. First: Never trust a shifter. Especially not one like Detective Colin Gyth whose gold-flecked eyes and predatory air make Emily realize how much she's been longing to lose control…
A DARK AND DANGEROUS HUNGER
Colin can't believe the doctor he's been assigned to work with on the Night Butcher murder investigation is the one person who could expose his true identity as a wolf shifter. Smart, sexy, and stubborn as hell, Emily brings out the alpha male in Colin, unleashing a wild, heady desire that takes them both over the edge. But in the shadows, the Night Butcher waits…eager to spill Emily's blood and taste her terror. And he'll use any means to destroy her, including the one person she has grown to trust…
"Highly sensual and definitely dangerous." –Shannon McKenna
"A cross between CSI and Medium, only hotter and with a hero that truly has bite!"–Jacquelyn Frank
Excerpt
"How much do you know?"
Emily swallowed, tried to figure out just how much she should reveal.
His hold tightened around her.
He was the one sitting down, the one forced to look up at her, but Emily had the feeling she was the one in the vulnerable position. "I-I know you aren't human." Her voice came out softer, huskier than she'd intended.
She hoped Colin would leave it at that. Hoped he wouldn't probe any deeper.
"Ah, baby, I already knew that."
She tried to tug her hand free, but his grip was unbreakable.
"You're the Monster Doctor, the one all the local ghouls go to see." A faint trace of amusement underscored his words. But his eyes were watchful, intense, showing no echo of humor.
Her jaw clenched. "Let go of my hand."
He smiled at her, and his fingers fell away from her wrist.
Emily immediately sprang across the room, putting several feet between them. Nice, protective space. "Look, if you aren't here to discuss the case, then I want you to leave." She turned her back on him, heading toward the front door.
"How do you do it?"
His words stopped her.
"How do you tell who is human and who isn't?"
She heard the soft rustle of the sofa cushions as he rose.
"That's a pretty interesting talent you've got there. And I'm just dying to know exactly how you do it."
Emily cast a longing glance toward the front door. "I'm afraid you're just going to have to live with your curiosity, Detective." Because she sure as hell wasn't going to reveal her innermost secrets to a stranger. Yep, letting the guy inside had been a definite mistake.
"Hmmm." His breath blew against the nape of her neck. Emily jumped, startled to find him so close to her. The guy hadn't made a sound when he'd crossed the room.
"I'd like to see your hair down," he muttered, and his fingers brushed against the bun she'd yet to unwind.
She jerked away from him. "And I'd like to see you leave. Guess which one of us is about to get her wish?"
His hard lips curved into a smile, a smile with a hint of real warmth. "Tough lady, aren't you?"
She'd had to be.
His smile slowly faded. "But trust me, I'm a hell of a lot tougher than you could ever dream of being." And in a flash, he had her pinned against the wall. His strong, hard body pressed against her, his muscular thighs pushed between hers, shoving up her skirt, and his right hand locked around her wrists as he forced them against the wall over her head.
Her breath left her body in a startled gasp.
"Now let's try this again," he growled. "Just how much do you know about me?"
Reviews
"Cynthia Eden's HOTTER AFTER MIDNIGHT is just that–hot. This book starts out sizzling and erupts in flames page after page. ..A page-turning erotic adventure that you won't want to put down until the end."–Lani Roberts of Affaire de Coeur, 5 Stars
"With an intriguing plot and vividly thought out scenes, this paranormal story by Cynthia Eden is thoroughly spellbinding. The multilayered storyline is fascinating all the way through, keeping readers totally captivated with the lives of the characters and their distinctively unique personalities."
–Amelia of Sensual, 5 Stars
"This is a truly well done paranormal romance with just the right balance between the paranormals, the love scenes, and the suspenseful hunt for a brutal serial killer."
"You will love Ms. Eden's world of the supernatural…"
–Maura Frankman, 4 ½ Hearts, The Romance Studio
"HOTTER AFTER MIDNIGHT is an addictive, action-packed story that will have you turning the pages, anxious to learn about Colin and his secrets, and whether or not Emily is the woman for him. Hot, intense romance make this a fantastically fabulous read, and you will fall in love with the Other that inhabit our world…that we never know exist."–Carolyn of Romance Reviews Today
"Eden delves into the darker side of the paranormal with powerful demons, beastly shifters and a human who has some special powers of her own…The love scenes are explosive and arousing."–Jennifer Madsen, Romantic Times, 4 Stars
"This tale has it all: tantalizing romance, humor, a mystery to solve and a monster to catch. This is a definite keeper on my shelf!"– ParaNormalRomance Reviews
Awards

Nominated for 2008 PEARL
(ParaNormal Excellence Award
in Romantic Literature)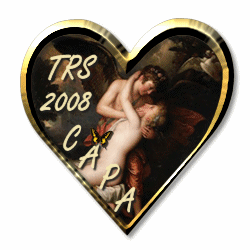 Winner of the 2008 CAPA
for Paranormal Romance
from The Romance Studio