Blood and Moonlight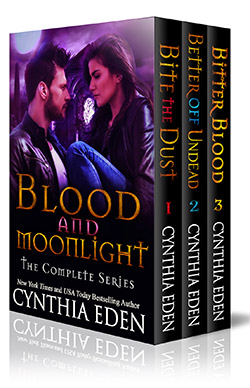 Buy Now
Available at
Vampires. Werewolves. Beasts that hunt in the night. Step into Cynthia Eden's sexy paranormal world and you'll meet an alpha werewolf who will risk everything for the woman he loves…For the first time, all of the BLOOD AND MOONLIGHT novels are now available in one hot boxed set.
BITE THE DUST – Book 1
When New Orleans Detective Jane Hart investigates her first official homicide case, she never expects to have her world ripped apart. But the murder she's investigating is part of a deadly war between vampires and werewolves…and now Jane is caught in that eternal battle. A battle that can't end well.
Werewolf Aidan Locke has been running New Orleans for years. It's his job to keep the vamps out of the city. But when a Master Vampire comes to town, determined to unleash hell, Aidan knows it's time to fight with all the fury of his pack. Beast versus vamp, until the last breath. Then he meets Jane…
One look, one taste, and Aidan knows that Jane is far more than she seems. Far more than she even knows herself to be. She's important in the paranormal war, not a pawn to be used, but a queen to be won. And if he can't keep her at his side, if he can't stop the darkness from descending on the town…then Jane Hart will become not just a fierce cop, not some guardian, but something deadlier. Darker. Aidan will fight heaven and hell to change her fate. To change their fate because he is more than just a predator.
And Jane is more than prey. Far more.
BETTER OFF UNDEAD – Book 2
Detective Jane Hart is just getting used to paranormal life in New Orleans. Monsters are real, and she's the lucky cop who has to deal with them on a daily basis. Werewolves, vampires, witches, and demons—she has to face them all and keep their paranormal madness in check.
When a killer targets human men—and leaves their bodies scattered in local cemeteries–Jane suspects she may be looking at the crimes of a werewolf gone rogue. In order to hunt down the beast, Jane once again teams up with her werewolf lover, alpha Aidan Locke. But Aidan has been keeping secrets from Jane, dark secrets that will destroy her world.
Because Jane isn't the hunter on her latest investigation. She's the prey. And when a vampire attack leaves her helpless, the woman that Jane was before will vanish. She'll become the one thing she fears most and Aidan…
Her fierce lover may have to become her executioner.
BITTER BLOOD – Book 3
New Orleans detective Jane Hart is a vampire. She craves blood, has supernatural strength, and when the mood hits her just right, she can grow one killer pair of fangs. She never counted on being a vamp, but she also never counted on falling hard for werewolf alpha Aidan Locke. Now she's mated to the wolf, and even though she's living the undead life, Aidan refuses to leave her side.
But Jane is being watched, hunted…tested. And each deadly test that she faces puts Jane—and the people she loves—in the path of a determined killer. She has to find out who is setting her up, before it's too late. Too late for Jane. Too late for Aidan.
Jane's blood has infected Aidan and the wolf that lives within him is fighting for survival. Each battle…each dark test that their enemy puts in their path…each move slides Aidan closer to the edge. A darkness is growing inside of him. A darkness that is slowly consuming the man he's been…
And leaving only the monster behind.