Wilde Ways: Gone Rogue Box Set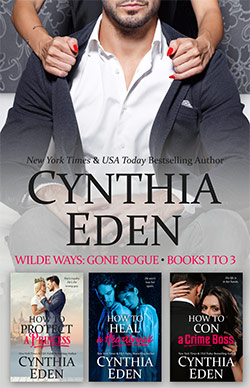 Buy Now
Available at
Danger. Romance. Steam. Fun. Get ready for Wilde Ways: Gone Rogue…romances with heroines and heroines who make the rules…and break them.
HOW TO PROTECT A PRINCESS – Book One
She's royalty. He's the wrong guy. But he's the only one who can keep her safe.
Constantine Leos can't believe his new assignment. He's supposed to protect a princess. Seemingly overnight, Juliet Laurent went from being a nobody to being the lost princess who now has her face splashed across social media. The new fame comes with danger because someone seems intent on making sure that Juliet never gets to wear her promised crown.
Constantine knows a guy like him won't ever get a happy ending, but he will do whatever it takes to make sure that Juliet stays safe. Because Juliet doesn't need a Prince Charming. She needs a bodyguard who will eliminate every threat and who will destroy anyone who tries to hurt her.
HOW TO HEAL A HEARTBREAK – Book Two
He's never run from a fight, and he's not about to start now.
Holden Blackwell, former MMA fighter and current all-around problem solver for the rich and famous, never expects for his ex to appear in his office, asking for his help. Sure, Claudia Fairmont haunts his dreams—and his waking hours—but she hates him, with good reason. Once upon a time, she swore that he'd be the last man she ever needed.
The fighter with the tats and muscles for days broke her heart. Crushed it in his powerful fist. She'd vowed never to go back to him, but, now she has no choice. Danger is stalking her. And if there is one thing that Holden can handle? It's danger. After all, he was the one person who always made her feel safe. She could very much use some safety in the madness of her life. But safety comes with a heavy price.
HOW TO CON A CRIME BOSS – Book Three
His life is in her hands.
Seth Wellington needs protection, but he never expects for that protection to arrive in the ever-so-sexy form of Harley Adaire. Their initial meeting is electric, and each time that he is around the deceptively delicate Wilde agent, his attraction to her grows. But this isn't the time for Seth to be falling for someone. The world thinks he's a master criminal. Just because his father maybe, sorta, okay, yes, was a master criminal. Now the FBI wants Seth to take over his father's organization. The Feds want him to work undercover and bring down some very, very bad people.
So in strolls Harley. A woman with a thirst for adventure, a smile meant to tempt, and a body that will rule his fantasies for years. She can be his bodyguard and his partner. She'll stay by his side, and they'll trip up the criminals surrounding them. Sounds easy. But…it isn't. Because Seth has to pretend to be someone completely different. Someone dark and dangerous, and the more he pretends, the more he starts to lose sight of his real self.