Trouble For Hire Box Set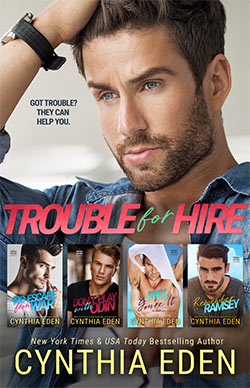 Buy Now
Available at
The "Trouble For Hire" romance series features hot, former military heroes…and these guys truly are the best kind of trouble. All of the books are stand-alones with guaranteed happy endings. Danger, romance, action, suspense, humor…oh, it's definitely time to find some trouble…The set includes: NO ESCAPE FROM WAR, DON'T PLAY WITH ODIN, JINX, YOU'RE IT, and REMEMBER RAMSEY.
NO ESCAPE FROM WAR (Trouble for Hire, Book 1)
Warren "War" Channing finally has the chance to nail his beautiful, lying ex. Turns out, the woman who shattered his heart beneath her high heeled shoes is wanted for murder. She's on the run, and he is just the man to hunt her down and toss her into the nearest cell….
Rose Shadow has cracked the story of a lifetime. She's uncovered a brutal serial killer who has been hiding in the shadows—only now, she is his next target. The cops think she's involved in the string of murders because maybe her DNA had been at a crime scene and maybe she'd been spotted by witnesses at another location, but Rose is a reporter, not a killer. But with War on her trail, she's out of time and options. War is former special ops. He's the best PI in town. And he's the man who gave her more pleasure than should be legal…Too bad that he's also the man who hates her the most.
DON'T PLAY WITH ODIN (Trouble for Hire, Book 2)
Odin Shaw thought he'd spend his life on a battlefield. But fate had other plans, and now the former Special Forces operative has just landed a new job at his best friend's PI office. It's one hell of a life change, and the giant "Viking" is trying to adjust, fast, but then she walks into his life.
Maisey Bright wants to hire Odin. She needs him to help her find proof—irrefutable evidence—that her next-door neighbor is a serial killer. Odin figures the case will be a snap. He'll prove that Maisey's neighbor is most definitely not a serial killer. He'll score some extra cash for the PI firm and maybe even score some points with the lovely—but obviously way too crime-enthusiast-obsessed—Maisey. Piece of cake. But as they dig deeper into the disappearances that have plagued the town for the last year, Odin begins to suspect that Maisey may be dead right. He also realizes that he is falling for a woman who now seems be the target of a killer.
JINX, YOU'RE IT (Trouble for Hire, Book 3)
Jinx lives for his good times. With a ready smile and quick joke, his charm carries him through most rough situations. And when his grin doesn't work, he just uses the down and dirty skills he acquired working Special Forces to get the job done. Life is easy, his luck is perfect, and nothing will slow him down. Except maybe…her.
Alison "Ali" Carter does not have time for handsome playboys—not even the ones with killer blue eyes and abs that last for days. Sure, she might have given in just one time and let her desire for Jinx take over, but she is not about to repeat that mistake, no matter how great the night was. But when trouble follows Ali to the Gulf Coast, Jinx proves to be an unlikely hero as he leaps into action.
This time, it's not about being lucky. This time, it's about protecting Ali and maybe, just maybe…winning her heart.
REMEMBER RAMSEY (Trouble for Hire, Book 4)
Second chances and happily-ever-after endings aren't meant for men like Ramsey Hyde. He's a criminal mastermind, a cold-blooded heartbreaker, and certainly no one's idea of a dream guy. Except…once upon a time, this heartbreaker lost his heart.
Dr. Whitney Augustine is considered by many to be one of the luckiest women in the world. She survived an attack that should have killed her. But her miraculous rescue came with a twist…she lost the memory of the last six months of her life. Whitney thought that when she returned to her home, her memories would follow…Unfortunately, they didn't. And the secret to her past? To all of those long nights that she just can't remember? Well, Ramsey is the key…he's the one who remembers everything with perfect, scorching clarity.