Mine Series Box Set Volume 1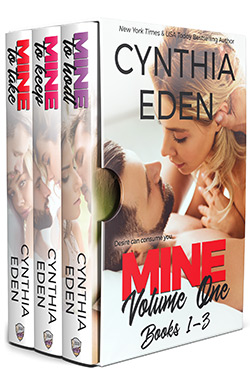 Buy Now
"Whew! This series is so dark and sexy."
— Amazon Reviewer, ★★★★★
Available at
Lust. Love. Obsession. See just how dark and dangerous some desires can be in New York Times best-selling author Cynthia Eden's sexy MINE romantic suspense series!
This boxed set includes the first three books in the MINE series: MINE TO TAKE, MINE TO KEEP, and MINE TO HOLD.
MINE TO TAKE
One man will kill to protect her…and another will kill to possess her. When a gorgeous ballerina is stalked by a deadly predator, she must turn to her ex-lover—a powerful billionaire with dangerous secrets of his own—for protection…but is he really her savior or is he the man she should fear the most?
MINE TO KEEP
Skye Sullivan is trying to put the pieces of her life back together. She survived a brutal stalker and escaped his abduction, and now she is looking to the future—a future that includes Skye's lover, billionaire Trace Weston. Skye thinks the danger is finally over for her.
When Trace's past comes back to haunt him, Skye discovers that the man she loves isn't quite who he seems to be. Trace has been leading a double-life. And when she discovers the secrets that he's tried to keep hidden, Skye's pain and rage may send her running directly into the cross-hairs of a killer…
MINE TO HOLD
Nine years ago, Claire Kramer's lover brutally killed her family, and he tried to kill her. She escaped, but she's been haunted ever since that attack. Too afraid to trust another man and too worried that her past will catch up with her, Claire never gets too close to anyone. But then she meets Noah York.
Noah York is a man with secrets. The world sees him as a billionaire hotel tycoon, but Noah has a dark and dangerous side. For years, he worked covert military operations before he built his fortune. When it comes to death, Noah is a master. He knows that he should steer clear of Claire, but the white-hot attraction Noah feels for the delicate beauty is instant—and consuming.