Lazarus Rising Volume Two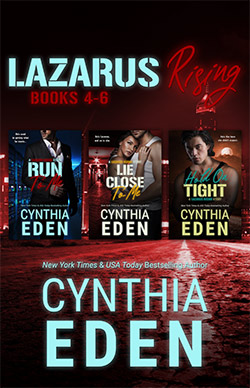 Buy Now
Available at
They're faster, stronger…and a whole lot sexier than normal men. Are you ready for the Lazarus super soldiers? Because they are ready for you…The Lazarus soldiers are back, and they are here to raise some hell.
RUN TO ME – Book 4
Jennings "Jay" Maverick is a tech billionaire. He has the world at his feet, and he thinks he can buy anything…but he can't buy her. One look at the mysterious Willow, and Jay knows that he is a goner. He wants to give her anything and everything she desires, but he's the man responsible for the pain in Willow's life, and getting close to her—well, that's not going to be easy.
LIE CLOSE TO ME – Book 5
He's Lazarus, and so is she. What happens when their worlds collide?
Maddox Kane has one goal—track Luna Ashton. He's the best hunter on his team, finely honed and designed by Uncle Sam to be an unstoppable killing machine. He's a super solider—faster, stronger, and deadlier than anyone else. Maddox keeps his emotions under careful lock and key because he can't afford to feel. Feeling is too dangerous, and the attraction Maddox feels for Luna is positively lethal.
HOLD ON TIGHT – Book 6
Jett is the perfect predator. He's faster, stronger, and far deadlier than a normal man—because he isn't normal. Brought back from the dead, Jett is supposed to be little more than a machine. His heart should be ice cold, but it's not. His heart beats fast and hard for the one woman he should never be able to possess, Savannah Jacobs. When she becomes pregnant with his child, Jett will break every rule to possess her and keep his new family safe.