Lazarus Rising Volume One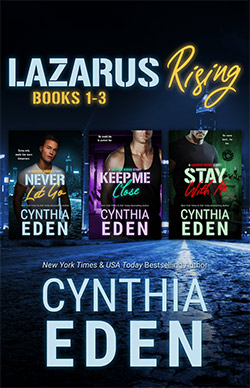 Buy Now
Available at
They're strong, they're sexy…they're the government's secret weapons. Ready to meet the Lazarus team? Super soldiers have never been so hot…or so deadly.
NEVER LET GO – Book 1 – Read a preview
Working on a top-secret government project to bring back the dead, doctor Elizabeth Parker is shocked to discover her test subject is Sawyer Cage, a Navy SEAL who was killed on a mission—and her former lover. He may not remember this past, but their attraction still burns red-hot. The government calls Sawyer a super soldier. Elizabeth still calls him…hers.
KEEP ME CLOSE – Book 2 – Read a preview
As a highly trained Navy SEAL, Flynn once worked covert missions for the U.S. government, but then his life was stolen away. Killed and placed in the secretive "Lazarus" program, Flynn was brought back from the dead and turned into a super-soldier. Dr. Cecelia Gregory's job is to help Flynn control his emotions after the experiment. But when he's with Cecelia, control is the last thing that Flynn feels.
STAY WITH ME – Book 3 – Read a preview
Shelly Hampton intends to spend the holidays alone in her family's mountain cabin, but when a snow-covered stranger appears on her door-step, her plans are shot straight to hell. It's soon apparent that John Smith is far more than a normal man—he's too strong, too fast, and she could swear that he seems to read her thoughts…and know her most secret desires. But is John a man that she could love…or is he someone she should fear?