Fear For Me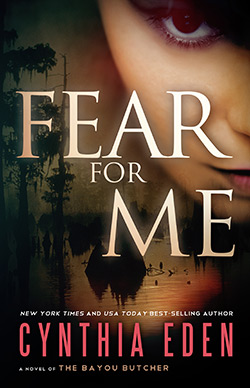 Buy Now
Available at
Also Available in Audiobook
Description
She's the obsession two men share: one wants her love, the other wants her life.
A shared passion for justice first brought Baton Rouge district attorney Lauren Chandler and US marshal Anthony Ross together—when each played their part in bringing down the infamous Bayou Butcher. The sparks flying between the two made it clear they weren't just a legal dream team. Then desire had to make way for duty, and what they had was done. But it would never be over.
Five years later, it's none other than the Butcher who gets things started again, when his shocking jailbreak reunites the lawyer and the lawman…and reignites their love. But this time, the pair is in danger of being permanently parted—by a killer with revenge on his mind, and Lauren on the top of his list. As a new wave of terror sweeps through the streets and swamps of Baton Rouge, one man will pit his boundless passion against another's relentless hate, for the life of the woman who obsesses them both.
Excerpt
Unedited Excerpt from FEAR FOR ME
She closed in on Anthony. "We need to talk."
A muscle flexed in his jaw. "Later, ma'am." His native Georgia drawl rolled lightly beneath his words. "Right now, I have a killer to hunt."
She grabbed his arm. Held tight. "A killer who was in my house. A killer who murdered my friend." Karen, I am so sorry. Each time she thought of Karen, it felt as if someone were clawing open her chest. "You aren't shutting me out, understand, Ross? I'm working this with you. I am going to make sure this city doesn't fall back into the Bayou Butcher madness it faced before." When fear had held them all captive.
Fear of the dark.
Fear of the monster who waited in the dark.
Jon Walker had made children—and even adults—fear the boogeyman once more. Because he truly was that monster.
"I tracked him before," Anthony said quietly. No emotion entered his voice or his gaze. "And I can do it again."
Without you.
Unspoken, but the words were still there, hanging between them.
She wouldn't back down. "My office will give you any support you need. We will work together on this." She knew the reporters were probably already swarming outside. Paul had been right on that score—a story about her, about the Bayou Butcher—hell, yes, they were talking a front-page spread.
Anthony bent toward her. His scent—rich, masculine—surrounded her. His mouth was close to her ear when he whispered. "Haven't you already come close enough to death?"
She turned her head. Met his stare. "Haven't you?" Because she knew the risks he took, day in and day out.
Even when he'd left her, she'd followed his career. Anthony's cases were the darkest she'd ever encountered. Brutal killers. Sadistic criminals.
Nightmares.
"Not close enough," he told her softly. "Not yet." His green gaze heated as it swept over her. "I missed you."
Then he was gone. Hurrying away with the other two men as they went out on the hunt.