Sinful Secrets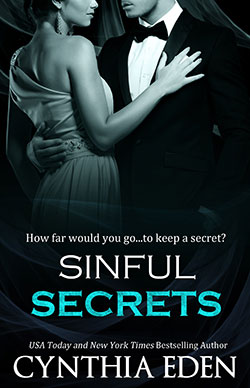 Buy Now
Description
New York Times and USA Today best-selling author Cynthia Eden delivers a sexy romantic suspense tale…SINFUL SECRETS.
One year ago, Catherine Donnelly spent a wild night in a stranger's arms. Sexy and mysterious, Jason August broke through all of Cat's defenses. But when dawn came, she ran from his bed, and she never looked back, until now…
Catherine vanished from Jason's life before, and he isn't about to let her escape again. Cat will discover that the only man who can truly keep her safe in a world gone mad…well, that would be the man she married a year ago, on one hot Vegas night.
Excerpt
"Why would you care if I came back to Vegas?"
His golden eyes gleamed. "You know the answer to that."
No, she didn't. If she'd known, then Cat wouldn't have asked the question.
"A whole year," he murmured as he edged ever closer to her.  "And you only come back to me because you think I'm blackmailing you."
Her heart was racing. She was starting to get a feel for his emotions then, all right. He's furious.
"Is that what it takes to get you back in my bed, Catherine?  Blackmail?"
Catherine. Not Cat.  Her full-name sounded sexy when it came from his lips—even if he was furious. And he was so close now. The heat from his body seemed to wrap around her.
"Because if that's all it took, I would have blackmailed you months ago."