Phoenix Fury Box Set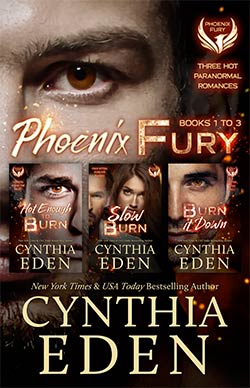 Buy Now
Available at
They're dangerous. They're powerful. They are the hottest supernaturals that you will ever meet…Prepare to enter the world of the phoenix shifters. They burn. They rise. They destroy. And, maybe, just maybe, they might lose their hearts along the way. The set includes three full-length, stand-alone romances, complete with HEA: HOT ENOUGH TO BURN, SLOW BURN, and BURN IT DOWN.
HOT ENOUGH TO BURN (Book 1)
Reporter Eve Bradley knows monsters walk among humans, and her latest story takes her inside the mysterious Genesis paranormal research facility. It's at Genesis that Eve meets Subject Thirteen, Cain O'Connor. Big, gorgeous, and truly, truly HOT.
Cain is a phoenix shifter. Every time that he dies, he rises from the ashes…stronger, deadlier, and another step closer to losing his control. Cain feels an instant connection with Eve, a woman who swears she wants to help him. The attraction between them burns hotter than his flames, and soon, Eve is the only link to sanity that Cain has as the world turns to fire around him.
SLOW BURN (Book 2)
The king of the vampires is in hell…and he will do anything to get his freedom. Ryder Duncan has been a prisoner at the Genesis facility for far too long. Trapped, starved, tortured—he is ready to do anything necessary in order to escape. If Genesis wants a monster, he will show his captors just how deadly he can be…
Then an angel is tossed into his cage. A beautiful angel who burns hell-hot and wrecks his world. With one taste of Sabine Acadia's blood, Ryder is hooked. He knows what she is—even before he is forced to watch the flames consume her. Beautiful, magical, more than a myth…Sabine is a phoenix, and when she rises, he vows that she will be his.
BURN IT DOWN (Book 3)
He is the monster in the shadows. The alpha phoenix who can light the whole world on fire, and he will…for her. Dante is the oldest phoenix alive—and the most powerful. He's escaped from Genesis, and he's determined to seek vengeance on all those who tortured him. Except…in the tattered remains of his memory, there is one person who calls out to him, Cassandra "Cassie" Armstrong. The daughter of his worst enemy, Dante should want to destroy her. He doesn't. He just wants her. He wants to possess her—body and soul.
He hasn't survived hell over and over again only to lose the woman destined to be his mate. Dante will take any risk, fight any battle, in order to claim her. Cassie has secrets, and so does he, but no one will tear them apart. And in order to keep Cassie safe, Dante will truly set the world on fire for her.