Only For Me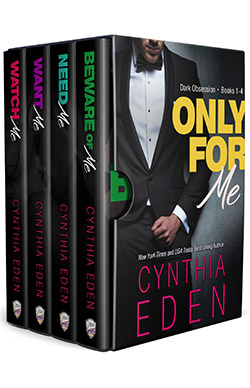 Buy Now
Available at
Step into the dark with New York Times best-selling author Cynthia Eden's sexy "Dark Obsession" romantic suspense series. The "Only For Me" anthology contains the following titles:
WATCH ME – Book 1
Do you like to watch?
Watching gorgeous Gwen Hawthorne isn't a hard job—but it certainly is tempting. Chance Valentine has tried to keep his distance from the sexy socialite for years, but when her father hires him to keep watch on her—as a twenty-four, seven bodyguard—Chance knows his control is about to be pushed to the limit.
Chance soon realizes that he isn't the only one watching Gwen. Someone else is out there, a stalker who won't rest until Gwen is destroyed. Every day, every moment…Gwen is in danger. And Chance knows that if he can't unmask the stalker, then he may just lose the only woman he has ever loved.
WANT ME – Book 2
Sophie Sarantos has a weakness for dangerous men. She doesn't like safe lovers—she likes men with a wild, rough edge. But Sophie may have attracted a lover who is too dangerous, even for her. Someone is stalking Sophie, slipping into her home, watching her day and night. The stranger seems to know all of Sophie's darkest secrets, secrets that should never be revealed.
Out of options, Sophie turns to ex-solider Lex Jensen for protection. Lex is part owner of VJS Protection, Inc., and Sophie hires him as her bodyguard. She thinks Lex is one of the "good guys" out there, but she couldn't be more wrong.
Lex has his own secrets. Dark, deadly secrets. And as his feelings for Sophie grow, Lex knows that he is going to have to stop pretending to be a gentleman and, instead, he'll have to show Sophie who he really is. A man trained to kill. A man too used to evil. A man who will take any risk…as long as he can claim Sophie.
NEED ME – Book 3
Innocent…or guilty?
The cops think that Julianna Smith is a murderer. No one will listen when Julianna claims she's innocent, and as the suspicions mount against her, only Julianna knows the truth…a killer is hunting her. Somewhere in the darkness, a stalker is closing in and preparing to deliver a final justice that she can't escape.
Devlin Shade isn't a man who trusts easily, and when Julianna Smith walks into VJS Protection, he's well aware of her reputation—the sexy blond could be a cold-blooded murderer. Only when he looks at her, cold is the last thing that Devlin feels. There's an instant attraction between them—hot, fierce, primal. And he agrees to take her case. He'll be her bodyguard. He'll keep her safe from the enemy hunting her, and he'll also find out the truth about the mysterious Julianna. If she is a killer, he'll turn her over to the cops himself.
BEWARE OF ME – Book 4
Criminal. Killer. Monster. Ethan Barclay has been called many things in life, and he usually doesn't care what people say about him. He's tough, hard, and brutal when he needs to be. But even the most dangerous of men can have a weakness. Ethan's weakness has—and always will be—Carly Shay.
Their pasts are tied together—twisted and melded by blood and death. Walking away from Carly was the hardest thing that Ethan ever did, but it was also his one good deed. He knew Carly deserved far better than him, and he wanted her to have a perfect life, a life that didn't involve paying for Ethan's sins.
Only now the secrets from their past have been revealed, and Carly's life is on the line. Ethan's enemies, Carly's enemies—the predators are closing in on them. But Ethan isn't going to let Carly be threatened. He will move heaven and hell to protect her. He won't lose Carly, not again, and for those foolish enough to try and take her from him…they are about to see just how deadly Ethan truly can be.