Ice Breaker Cold Case Romance Volume One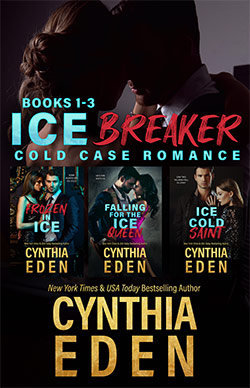 Buy Now
Available at
Welcome to the world of the Ice Breakers…A world full of cold case mysteries and red-hot romances.
Frozen In Ice (Book One)
Delilah "Lila" Darrow doesn't belong in the world of the rich and famous, but for one night, she's going to wear the fanciest dress she can find and pretend that she does. Her plan—get close to reclusive billionaire Archer Radcliffe and find out…is he a murderer?
Delilah is part of a group of crime solvers called the Ice Breakers—an online team made up of individuals who have the goal of solving cold cases. Archer Radcliffe will be the latest target in her quest. Except…Archer turns the tables on her. He sees through her lies. Tries to seduce her. And, he also swears his innocence.
Falling For The Ice Queen (Book Two)
Memphis Camden isn't a nice guy. A former bounty hunter, Memphis now has a deadly new target…a serial killer. Memphis has been tracking the guy for months, and he may just have found the way to drag the monster into the light. In order to accomplish his mission, he's going to need help from an unlikely ally…
Eliza Robinson doesn't talk about her past. She tried going to the cops—long ago—but they never caught the man responsible for her abduction. But Memphis is hunting for the man who once turned Eliza's world into a nightmare. Memphis wants her help because she is the only one who ever escaped from the monster. What Memphis doesn't know…is that the monster has been stalking Eliza ever since she fled from him…
Ice Cold Saint (Book Three)
Saint is in the family business…the business of hunting killers and closing unsolved cases. He knows his reputation—most people think he is a monster. But it takes a guy like him to get the job done. And his latest job? Well, that job has him tracking down a suspected Black Widow…the beautiful and ever-so-seductive Alice Shephard. A woman who is linked to the disappearance of three men.
Whispers and scandal follow her every step, but Alice doesn't seem to care. Is she responsible for the disappearances—and possible deaths—of three ex-lovers? Saint will find out. If she's guilty, he'll personally lock her away, just as he has done on case after case before.