First Taste of Darkness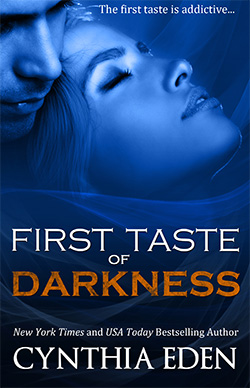 Buy Now
Available at
Description
New York Times and USA Today best-selling author Cynthia Eden's sexy romance, FIRST TASTE OF DARKNESS, will take you to the dark edge of desire…
It was supposed to be a one-night stand.
Hot sex. No regrets. Jess Delaney has spent her life playing the role of the good-girl. On a trip to Vegas, she decides to walk on the wild side when she meets mysterious Blake Landon. Rich, powerful, and carrying plenty of secrets, Blake is unlike any man she has ever met before.
Blake is also far more dangerous than anyone she's ever encountered. When enemies from Blake's past attack, Jess finds herself caught in a deadly cat-and-mouse game. Her only hope of survival? Trusting a man who knows too much about the dark side of life…and a man who—with every sensual touch—binds her to him with a desire that burns red-hot.
Once you step into the darkness, there's no turning back…
Excerpt
"I promise, you're safe with me." A new intensity had entered his voice, one that gave her pause. Again, Jess wished that she could see him better. She wished that she could look deep into his eyes.
The limo's interior had seemed huge to her moments before, but it suddenly felt very small. Or maybe Blake was just too big. His wide shoulders stretched, filling the space, and he seemed to cage her next to him.
"When dawn comes," her words weren't as sharp anymore, "I get to leave?"
"If that's what you want."
Jess nodded. Sure, that was exactly what she'd want.
His fingers trailed down her cheek, then slipped over the curve of her neck. "Your pulse is racing so fast."
She swallowed and knew he felt the small movement. "Being shot at will do that to me."
Blake laughed. The sound sent a shiver over her. A man's laugh shouldn't be so sexy. "You are unexpected."
Uh, okay.
He bent his head. His mouth replaced his hand on her neck. He kissed her lightly. Softly. And then she felt the rasp of his tongue on her throat.
Jess's fingers dug into that fancy leather seat.
"Once you step into my world," he murmured, and the edge of his teeth scored her flesh, "you may not want to leave."
Her eyes had drifted closed, and Jess was working really hard to hold back a moan, so she barely heard his words.
A shoot-out, a seduction in the back of a limo—that was probably commonplace for him.
Not for her.