Bleed For Me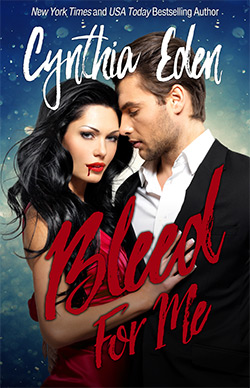 Buy Now
Available at
The Greek gods are alive and well.  But, unfortunately for the gods, the humans have all but forgotten their glorious existence…and this fact really pisses off the all-powerful, immortal beings.
Apollo, the Greek god of the sun, takes one look at the mysterious Terese Lafitte and knows that he wants her. Even in this modern century, a god takes what he wants. But Terese isn't a mortal, not any longer. As a newly turned vampire, her attraction to Apollo is downright lethal because desire arouses not just her body, but also her bloodlust.
But Apollo likes a woman with bite, and now that he's found Terese, he's not about to let the little vampiress out of his sight or out of his bed.   When Terese's psychotic vampire ex begins to stalk them, Apollo knows that he will have to use all of his strength to keep her safe.  Lucky for Terese, Apollo has more power than she could ever have imagined.
When you trifle with the sun god, you will get burned.
Warning: This story contains hot sex, a desperate vampire, and one alpha Greek god. Adult language included–and beware of the monsters.
Note: BLEED FOR ME has been revised with an updated cover and a reformatted ebook.