Bad Things Deluxe Box Set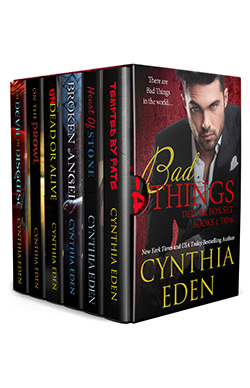 Buy Now
Available at
There are BAD THINGS in the world…and it's time for you to meet them. If you love sexy paranormal romances that are filled with alpha werewolves, dark demons, seductive vampires, powerful witches, and supernatural suspense, then this boxed set is for you. This deluxe boxed set includes six complete novels from New York Times and USA Today best-selling author Cynthia Eden.
Included titles:
THE DEVIL IN DISGUISE – Book 1
ON THE PROWL – Book 2
UNDEAD OR ALIVE – Book 3
BROKEN ANGEL – Book 4
HEART OF STONE – Book 5
TEMPTED BY FATE – Book 6
THE DEVIL IN DISGUISE
Luke Thorne loves having one hell of a good time. As the ruler of every dark creature to walk the earth, he certainly has more than a bit of a bad side. He lives for danger and isn't the type to lose his heart—mostly because he doesn't have one. Then she walks into his life. Mina James is seduction in the flesh, a perfect temptation that the devil himself couldn't pass up. Soon he's realizing that she isn't who she appears to be. Not dark and cold, but burning red hot. Mina is a woman fighting for her life—and the Lord of the Dark suddenly finds himself in an unlikely role…hero.
ON THE PROWL
Panther shifter Julian Craig has a mission—protect Rose Kinley at all costs. It's his fault that she lost her human life, and he literally made a deal with the devil so that she would have a second chance as a vampire. And as part of that deal, he's supposed to keep his hands off Rose. An impossible task considering the dangerous lust he feels for her.
UNDEAD OR ALIVE
Cassius "Cass" Garvan is the last Reaper. One of the baddest of the bad…Cass can literally kill with a touch. He's the bounty hunter who always brings in his prey, undead or alive. This time, he has a new target…the all-too-tempting Amber Fortune. Hunting her down was the easy part. Giving her up? Cass isn't so sure that he can let her go.
BROKEN ANGEL
Angel Lila is being hunted—she can feel the hunter closing in behind her. Every move she makes, he's stalking after her. But does the werewolf on her trail want to destroy her—or can he protect her from the growing darkness that she is trying so desperately to fight?
HEART OF STONE
Sabrina Lark is a muse who has the ability to inspire any man…to do absolutely anything. Unfortunately for Sabrina, the latest human to fall under her spell has turned out to have one very dark side. Now he's obsessed with her, and she's realized—too late—that she just inspired a serial killer. She truly has the worst luck in the world. Desperate, Sabrina makes a deal with the devil in order to get some serious paranormal protection. Her protection comes in the oh-so-sexy form of Adam Cross, a man who is able to resist her magic…because Adam really is made of stone.
TEMPTED BY FATE
Leo is used to having power. After all, he carries the title Lord of the Light for a reason–he's a supernatural powerhouse and his job is protect all of the "light" paranormals in the world. He's used to snapping his fingers and getting anything–or anyone–he wants. But when he falls for Fate, Leo will learn that power can't get a man everything. In fact, it might not even get him the one woman he wants most…