Playing With Fire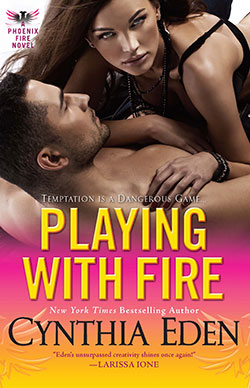 Buy Now
Available at
Also Available in Audiobook
Playing With Fire Audio Sample
An Old Flame
Cassie Armstrong has plenty to atone for. The daughter of the most immoral researcher ever to pick up a scalpel, she's determined to use her own brilliance in genetics to repair the damage her family has done to the paranormals. Especially Dante, the first of the phoenixes, the one they call the Immortal. He's been haunting her dreams since she was a little girl, and she's been trying to ease his pain for almost as long. If only he remembered any of it. . .
Dante doesn't know what Cassie's story is. He almost doesn't care. The minute he sees her, all he can think is mine. But there's more to the pretty little doctor than meets the eye. And Dante isn't the only one to notice. He can't trust her, but he can't stay away–and if he wants to learn her secrets, he's going to have to fight like hell to keep them both alive. . .
Excerpt
"I've dreamed about you," he whispered. His hold was an unbreakable grip on her wrists.
At his confession, her heartbeat picked up and hope blossomed inside of her. Finally, finally, he'd—
"In my dreams"—a muscle flexed along his jaw—"you kill me, Cassie Armstrong."
Oh, hell. "I told you. I'm not here to hurt you."
"But you have killed me before, haven't you?"
Cassie knew she had to be careful. She wasn't like him. Dante could die, again and again, but he would just come back from each death.
He'd rise from the ashes and be born again.
While she would just—well, die. There would be no coming back for her.
With a thought, he could incinerate her. The heat that warmed her skin beneath his fingers could turn into a blazing inferno at any second.
"Last night, I dreamed about you." His words were a low growl as he leaned closer to her.
The noise from the bar drifted into the room. The blaring beat of music. The scents of sex, blood, and booze.
"You stared right at me, then you stabbed me."
His bad memories weren't going to make things any easier.
"So maybe you should tell me why I shouldn't just pay you back for that right now." His breath blew lightly over the sensitive skin of her neck. "And end you."
She shook her head, sending her long hair sliding over her shoulders. "Please . . ."
"Oh, I like it when you beg."
Actually, he did. But that was another story.
"So you've had dreams." Cassie started talking, fast, because she had seen him incinerate a man before. She didn't want that same fate. "Well, I'm your key. I know you. Every dark spot in your mind? I can shine the light and show you—"
His mouth was just inches from hers. Inches? More like an inch. "What are you going to show me?"
"Everything," she whispered, promised. "I can tell you the secrets of your life. I can tell you who you are, if you'll just trust me."
His gaze searched hers. Some people thought that his eyes were just dark—mirroring his black soul, but they were wrong. There were flecks of gold hidden in his eyes. You just had to look hard and deep enough to see them.
"Why should I trust a woman who's killed me before?"
"Because I've saved you, too." She'd risked so much to save him. "Believe it or not, you actually owe me."
"I don't believe it."
Her lips trembled.
His gaze dropped once more to her mouth.
"Dante . . ."
He kissed her.
She hadn't been expecting the move, and when his lips closed over hers, shock froze her for a moment.