Once Bitten, Twice Burned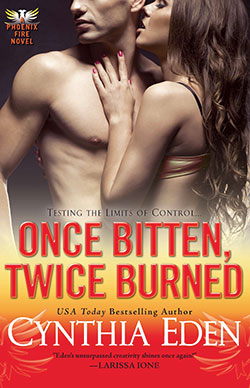 Buy Now
Available at
Also Available in Audiobook
Once Bitten, Twice Burned Audio Sample
Description
(Phoenix Fire Series – Book Two)
Blood–And Lust

Ryder Duncan keeps his secrets. With a twisted scientist starving him in a 10 x 12 cell, it's not easy to conceal the abilities that set him apart from other vampires, or his plans for escape. But survival–and revenge–are worth waiting for. Until the so-called doctor tempts his appetites with something special: a woman, with a soft Southern accent and a scent like flowers. Sabine.
Sabine Acadia didn't volunteer to be dinner. She was kidnapped and tossed into the cage of a monster. A monster with fierce green eyes, a body that speaks of ruthless power–but a touch gentle as a caress. Ryder knows things about her, secrets Sabine needs to learn fast. Because while they might soon escape this prison, she's fighting an urge to set all her desires free. . .
Excerpt
She shook her head, sending the heavy curtain of her hair— brown but shot with red highlights—over her shoulders. "Mister, you've got some real big teeth, and I'd appreciate it if you kept them away from me."
Her voice was husky, low, and sexy. It whispered with an accent he'd heard before, down in New Orleans. Smoky. Rolling.
"Please," she said again, as her hands pushed against his chest.
But he couldn't let her go. Ryder inhaled again. She smelled so good. He knew she'd taste even better. "Just a few sips," Ryder told her because he was past the point of pulling away. The hunger was too strong. It wasn't the man who wanted her blood. It was the beast who had no control.
She yelped and kicked out at him.
He barely felt the blows.
"Take as much as you need, Ryder," the doctor's satisfied voice told him. "She's all yours."
He grabbed the woman, twisted, and forced her back against the right wall. They were across from that damn two-way mirror, and his bigger body easily shielded hers, blocking her from Wyatt's view. "I'm . . . sorry." He barely managed to grit the words, but he had to say them. He hated her fear. Hated that he was the one who made her afraid.
She stopped struggling. "Don't be sorry, just let me go."
The thunder of her blood was the best music he'd ever heard. "Haven't . . . fed . . . too long."
"I'm not your midnight snack." Her words were brave, but he saw the fear in her eyes. "I'm a person, dammit! Now let me go."
He couldn't. His head lowered toward her throat. "I'll hold on to my . . . control." Ryder hoped the words weren't a lie. "I just need a little . . . blood."