Eternal Hunter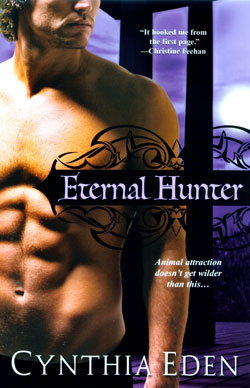 Buy Now
Available at
Also Available in Audiobook
Eternal Hunter Audio Sample
Description
Cynthia Eden delves into the dark realms of the Others, where desires and dangerous games await the unsuspecting in Baton Rouge, Louisiana.
Assistant DA Erin Jerome has a secret. Make that two. One: She's not entirely human–she's Other, desperately trying to keep her supernatural strength under wraps. Two: she's got a killer stalking her–an Other rogue set on "gifting" her bloody corpses, not to mention nights lying awake in terror. Small wonder she's been having bad luck with men.
But the bounty hunter on her new case isn't worried about any of that. Jude Donovan is a shapeshifter himself, and the new DA's midnight hair and addictive scent tell him all he thinks he needs to know:  She's gorgeous, she's definitely not human, and she's bringing out the animal in him in a really good way. He might have to track a psychotic Other stalker through half of Louisiana. But he might also get the chance to watch Erin's wild side come out and play.
Excerpt
"Wanna answer my question?" His voice was deep, rumbling.
Goosebumps rose on her bare arms. And it was too damn warm for her to have a chill from the weather.
"And just what question was that?" She titled her head to the right.
"Who are you?" A pause. "What are you?"
She let her eyebrows furrow. She'd fooled Other before, she could do it again. "I'm really not sure I understand. I told you, I'm Assistant District Attorney—"
"You don't smell human."
Her breath left on a gasp. No, he hadn't just said—
He stepped toward her, a fast move that brought their bodies too close. Jude leaned in, lowering his head over the curve of her throat. And inhaled.
"Stop!" She shoved him, hard, and watched with no small satisfaction as he stumbled back. Oh, yeah, big guy, I'm much, much stronger than I appear. He wasn't the first one to learn that little lesson.
She almost bared her teeth at him. Almost.
After all, she wasn't an animal. No matter what the whispers back home said.
"I don't know just what you think you were doing," she snapped, glaring at him as she narrowed her eyes. "But you'd better watch what you do and what you say around me." Was the guy crazy? You don't smell human. He couldn't say things like that.
The words were too dangerous.
She reached into her purse. Dug out her card. "Call my office. My assistant will take care of any paperwork you've got."
He stared at her a moment longer. Then, slowly, his tanned fingers rose. Long fingers, callused. Strong. He took the card, and his fingertips brushed over her hand.
Erin didn't flinch and she was extremely proud of that fact.
"Good work, Donovan." After giving him that grudging token of appreciation, she nodded and began to march back toward her car.
She'd taken all of five steps when she heard his whistle. Long, loud, and very appreciative.
Erin stilled.
I really don't need this shit.
"I've got your scent." Hard words. Scary words. Because she knew what they meant.
If Jude Donovan truly was a shifter, and every instinct she had screamed that he was, then having her scent, well, it meant he had her. He'd be able to follow her, to find her, almost anywhere.
A shifter. What were the odds she'd stumble onto him?
One of the little perks in the Other world—the world full of supernaturals and nightmares, the world that, rather unfortunately, was her life—was that like recognized like. Demons, because, yeah, those conniving bastards were real, could "see" others of their breed. They could look right past the magic glamour and peer into the darkness inside.
Witches felt the power pull from their brethren.
And shifters, well, they could smell each other—a distinct scent. One that carried the wisp of power and the scent of the beast.
Jude Donovan smelled of power. Of wild, strong man. Of savagery. No denying that scent.
As for the beast…she didn't need the marks on Bobby's face to know Donovan had claws.
Erin began to walk again. One determined step after another.
And even when she climbed into her car, she could feel his eyes on her. Watching and seeing too much.
Oh, damn.
Now, she'd have to be extra careful to stay on her guard and not let the hunter discover the secrets she kept so carefully hidden.
***
Reviews
"Danger and excitement leap off every page of this fast-paced paranormal romance set in the world of 2009's Immortal Danger. A shape-shifter who can't shift and a psychic who dreams about death live in the body of Erin Jerome, who's trying to maintain a normal life as a Louisiana assistant DA while avoiding the secret world of shifters, demons, vampires, witches and djinn. When a shape-shifting psychotic starts stalking Erin, sending her gifts of dead bodies in the crazed hope of luring her to his side, bounty-hunting shifter Jude Donovan vows to keep her safe. Erin wonders whether, like her shifter mother, she carries the seeds of madness and fears that when Jude learns the truth about her he'll turn from her in disgust. Well-crafted characters and nail-biting suspense and passion elevate this tale above the glutted paranormal market." —Publishers Weekly, Starred Review, November 2, 2009
"Eden shines when it comes to creating characters and backstory for a variety of paranormal beings. Her great characters, who have to deal with abandonment and trust issues, come across as distinct and interesting entities. The pages fly with mystery, suspense, action and plenty of sexual heat." –Romantic Times, 4 Stars
"Eternal Hunter starts off with a powerful momentum that carries throughout the novel, keeping the reader hungry for more. Cynthia Eden takes her book to the edge and beyond with the intensity of a first-rate, action-packed tale that is so sexually charged, I felt like I was going to self-combust as I read the heat filled moments." –Danielle of Coffee Time Romance, 5 Cups